Another report from the PokerStars Player's No-Limit Hold'em Championship as the $25,000 event that's stunned the poker world reaches a final table, and two Platinum Passes are in with a shot of winning $5.1m.
When the thought of creating the $25,000 PokerStars Player's No-Limit Hold'em Championship first came into view the innovators hoped that giving away 320 $30,000 Platinum Passes would create one or two Moneymaker type stories that could be used to ferry poker into more mainstream waters.
Well, the final table is here, and we do have two Platinum Pass winners who are guaranteed to send a wire to their bank for $509,000 and could still increase that to $5.1m. The people responsible for selling the narrative will have their fingers crossed.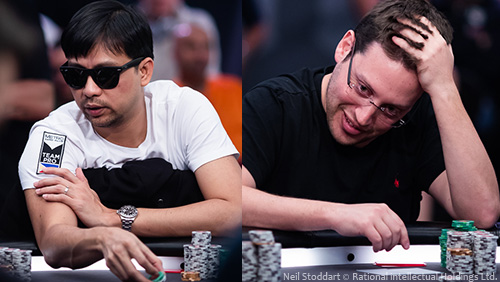 Marc Rivera earned his Platinum Pass after winning the Asian Pacific Poker Tour (APPT) National Main Event beating 829-entrants to win the $85,940 first prize and the Platinum Pass. Ramon Colillas topped the Campeonato España de Poker (CEP) Leaderboard to secure his passage into this phenomenal event.
Day 4 began with 38 players and Scott Baumstein at the head of the chip counts. Day 5 starts with 8 and the same man seated in the same position. Baumstein is one of a plethora of top-notch grinding shot-takers who make a living at this game without having to appear in $25,000 buy-in events.
The only regular high roller who has made the final table is Talal Shakerchi. The Hedge Fund manager from London is one of the favourites for the title should he get lucky in the early levels. Marc Perrault has outstanding results, and nobody comes into this tournament hotter than Julien Martini, who had an exceptional 2018, and was a contender for the WSOP Player of the Year award before Shaun Deeb ran away with it.
Final Table Seat Draw
1. Jason Koonce – 7,125,000
2. Julien Martini – 8,600,000
3. Farid Jattin – 8,525,000
4. Talal Shakerchi – 5,500,000
5. Marc Perrault – 2,275,000
6. Ramon Colillas – 8,300,000
7. Scott Baumstein – 10,725,000
8. Marc Rivera – 10,350,000
Day 4 Highlights
Kristen Bicknell eliminated Jacqueline Burkhart after the money went in on 8d6h5c7d after Burkhart flopped two pairs, only for the Canadian to hit her straight on Fourth Street holding 9h8h.
Burkhart was the winner of Maria Konnikova's Platinum Pass Adventure #MyPokerStory contest.
Louis Boutin eliminated the former World Series of Poker (WSOP) One Drop High Roller winner, Tony Gregg when his AK flopped an ace in a flip against pocket sevens.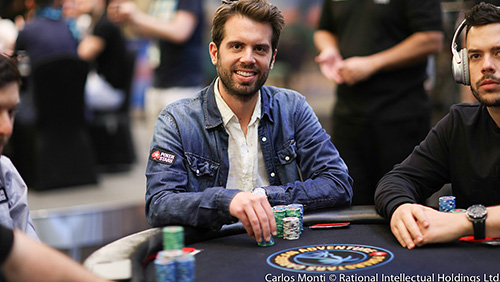 One of the most dangerous players left in the tournament, Mikita Badziakouski, hit the rail after first losing a flip to Farid Jattin AQ<99, and then losing AT<A7 against Marc Rivera, who turned a seven.
Marc Perrault took care of the dangerous Dan O'Brien. The American moved all-in holding A6o, and the Canadian called holding ATo, and the better hand won.
Scott Baumstein eliminated the two-time World Poker Tour (WPT) Champion, Marvin Rettenmaier after his AQ beat KTcc when all-in pre-flop. Jattin eliminated Joao Barbosa when his pocket nines battered pocket fours. And Pedro Padilha eliminated Martins Adeniya in a cooler KK>QQ.
The former Irish Open Main Event winner, Griffin Benger, exited in 14th place after moving all-in holding K9o after Talal Shakerchi had opened with JTcc from early position. The British high roller flopped a jack to end that tussle.
Marc Rivera cast the dangerous Jake Schwartz aside in 12th place after his AK dominated KJ when all-in pre-flop. Julien Martini eliminated the Global Poker Index (GPI) Female Player of the Year, Kristen Bicknell, in 11th place after KQ bettered KJ. And the final table came into view after Jattin eliminated the rocking Romanian Florian Duta in a bad beat that saw the AJhh of Duta turn a flush against AK.
Here's what's at stake
Final Table Payouts
1. $5,100,000*
2. $2,974,000
3. $2,168,000
4. $1,657,000
5. $1,304,000
6. $1,012,000
7. $746,000
8. $509,000
*Includes $1m added by PokerStars
The final table gets underway at noon with close to 40-minutes remaining in level 32. The blinds will be 125,000/250,000 with a 250,000 big blind ante.