Talal Shakerchi leads the Day 2 field at the PokerStars Player's No-Limit Hold'em Championship after the event became the richest $25,000 in history with 1,014 entrants on record with late registration still open until the start of Day 2.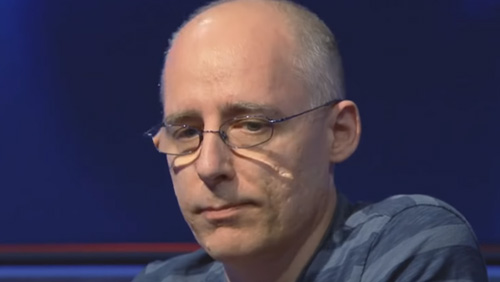 It doesn't matter what window you peer in from; nobody needs a $25,000 buy-in event.
Water.
Air.
Health.
A piece of zinc to keep the rain away from your syrup of fig.
Those are needs.
We innately know what we want, but we're not the best at figuring out how to turn the feeling into an experience.
But don't worry, PokerStars is here to help.
The PokerStars marketing machine is smart enough to know that they need to treat different people differently.
Grinders.
Celebrities.
High Rollers.
Beginners.
But there are a few common wants amongst the various tribes: a life-changing experience, joy and a lake full of money, and that's why they created the $25,000 Player's No-Limit Hold'em Championship (PSPC).
The PSPC is a way for PokerStars to show the naysayers that behind the corporate machine there is a family that loves poker and wants to create value for every PokerStars customer.
Call it an expensive hearts & minds campaign; one that worked, and one that will more than pay for itself in the years to come, because you have to be unbelievably cynical, or remarkably blind, deaf and dumb not to see the good in this event.
After PokerStars confirmed their intention to donate 300+ Platinum Passes at $30,000 a pop it was always going to be the wealthiest $25,000 in history, and by the time Bruce Buffer snarled into his microphone like Bruce Dickenson on speed, the clock read 728-entrants (the record held by the WPT was 639).
By the end of 8 levels of 60 minutes people in the media room who took the 'over' on a thousand players were collecting after the final toll rang in at 1,014-entrants – and registration remains open until the start of Day 2.
Everyone was here.
But not everyone survived.
Sergio Garcia, Tony Hawks and Norm Macdonald are out. Joe McKeehen, Dietrich Fast, Bryn Kenney, Michael Addamo, Rainer Kempe, Erik Seidel, Scott Seiver, Adrian Mateos and Koray Aldemir – people who eat $25k buy-in events for breakfast – are also moving on to their next project.
When all was said and done, the man at the top of the chip counts is someone who eats $1m buy-in events for breakfast. Talal Shakerchi came into this one after making the final table of the $215 Sunday Million (finishing 6th), the $100,000 at the WPT Five Diamond (finishing sixth) and the Super High Roller Bowl V (finishing third), so if you want a bet on a winner, flick a few quid on the man from the city.
Top 10 Chip Counts
1. Talal Shakerchi – 425,300
2. Dan O'Brien – 301,200
3. Shyam Srinivasan – 254,000
4. Jonathan Dokler – 240,100
5. Juan Oliero – 228,900
6. Scott Margerson – 221,600
7. Adrien Delmas – 211,500
8. Steven van Zadelhoff – 210,000
9. Kristen Bicknell – 207,900
10. Luiz Duarte – 207,000
Day 2 begins at noon where PokerStars will fulfil more wants over another 8-levels.