Another report from the PokerStars Player's No-Limit Hold'em Championship in the Bahamas as Lee Davy sits down with the World Series of Poker bracelet winner, Chad Holloway, to discuss how it feels to play his first $25k buy-in event.
*To download this audio, right click and save link as*
Chad Holloway brings out my envy. We are from the same earth, and we will return there when we've finished our work – none of that matters – what matters is what we do in between the digging, and Chad has done plenty.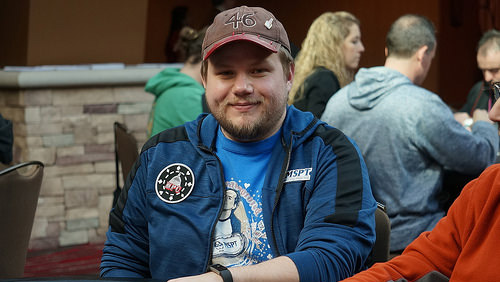 I've played in the Casino Employees World Series of Poker (WSOP) event (the best chance I ever had of winning a bracelet). So has Chad. I min-cashed. Chad won the thing, halos, dark circles and all.
I've travelled all over the world with the poker circus. I have stood in the stands of all the big tops. I have worked with every poker company. Chad has also been in those big tops, but rarely in the stands. He has also worked for every poker company, but his network is so much stronger.
And today, he plays in a $25k, and my role is to interview him before one of the most incredible experiences of his life. There is a lot of luck in poker, but there is nothing lucky about Chad's contribution to the industry as a player and a media representative.
I ask Chad what he's doing, playing in a $25k event?
"I've spent the last three years working for the MSPT, and I have gotten to know a lot of the players on tour," says Holloway as he waves to people passing us in the Atlantis corridor. "One night after an event we ended up drinking in one of the player's hotel rooms, and one of them asked me if I planned to play in this event? I said, 'There is no way it's $25k', and he said, 'Sell action', and I said, "I don't think I could sell that much action'. He was like, 'I will buy a big chunk,' and that got the wheels turning. I have put up some of my money, and some investor money, and I got to a point where I was comfortable firing my first and probably only $25k."
There's a light bulb flickering in that gold mine of a response.
I want to twist it; illuminate it.
Why would this be his only $25k event, after proving that he can rustle up the funds to play in this one?
"I guess if I have a good showing – that certainly helps," says Holloway. "If you show you can hang in there, and compete in a $25k field, let alone cash or a make a final table appearance – those things go a long way when it comes to selling action. But I guess you're right – I never thought I could play a tournament like this and here I am. I never thought I would win a WSOP bracelet and I did that too, so maybe anything is possible."
Anything is possible, so what is Chad not doing that's also possible?
"One thing that I know I need to do is get my arse back in shape," says Holloway. "I've always struggled with that since I was younger. I have lost a lot of weight and put a lot of weight back on. I am not in the best shape of my life. I was when I won the WSOP bracelet. It was like, 'What's next?' I realised that it was the next step for me to make me happy, and I ended up losing like 60 pounds, but alas the poker world is as it is, and I am back there, unfortunately."
I wonder what Chad means by the poker world being as it is? My initial thought turns to the lack of good quality grub at poker tournaments. I was standing in the wrong queue.
"Poker is a roller coaster for your emotions, especially when you're playing and dealing with those swings," says Holloway. "I am not particularly great at it. I get angry and tilt, and put a lot of pressure on myself, and sometimes I deal with that by eating comfort food."
That was then; this is now.
Chad has momentum again.
I can feel it.
Can he?
"Finding balance is important," says Holloway. "I feel I am finding that both playing poker and working in the industry. For a few years I flirted with burnout, or maybe I was in the midst of burnout and didn't realise it. Trying to continue and maintaining that in 2019 is going to be a big step."
Chad won his WSOP bracelet in 2013, beating 898-entrants in the $500 No-Limit Hold'em Casino Employee event, banking $84,915 in the process. Why didn't he stop writing, and focus on playing professionally?
"I learned a long time ago, having played once for a living, and watched people come and go, that the best recipe for me is to have a steady income 'working' – in or out of the poker industry – and then playing on the side and taking shots occasionally. I don't want to have to play poker strictly for a living again, barring some multi-million dollar score which may change my perspective."
And with PokerStars firing $9m worth of value into the PokerStars Player's No-Limit Hold'em Championship (PSPC), and Holloway in with a shot of going all Pac-Man on the thing and gobbling some of it up, are we saying that 'money' is the only defining factor here?
"If money wasn't a factor and I wouldn't worry. I wouldn't be firing $100ks, but if I could fire $1ks or $1.5ks and not have to worry about the swings eating into my bankroll, I would do that in perpetuity. The facts are, those are big chunks of change for any 'working person', and I am not there now. It would take a big score for that to happen."
When I used to play poker professionally, tilt reared its ugly head when the money meant too much to me. I ask Holloway if the same is true?
"I think it's fair to say that applies to me," says Holloway. "My playing opportunities are few and far between because of my working schedule. So when I do play, I find I go a little more all out that I should, whether that's in tournaments or cash games. I have definitely lost more playing PLO cash games than my bankroll should be able to absorb. It's not 'responsible bankroll management' by any means."
So we've touched upon the importance of having a steady side income, and not playing outside of bankroll limits apart from shot taking – what other advice could Chad give to people who want to play poker semi-professionally?
"If you are going to be successful unless you live in a vibrant poker area such as Los Angeles, Las Vegas, South Florida or Atlantic City, you are going to have to travel. Right now the PSPC is a fine example of that. Everyone in the poker world is here. When you travel, there are overheads, and you need to factor that into your bankroll. There are ways to manage that better. Poker players share Airbnb, share taxis. Be aware that those things exist and keep those overheads down, so you have more money to put towards your poker career."
You can't share rides or rooms with poker players without excellent networking skills. I see this as one of Chad's strengths, and ask him for advice on how to better manage this crucial area of life?
"I feel my network is great in the poker media side of things, but lacking when it comes to the playing side," says Holloway. "I have always had access to great things that most people don't. I know most of the players, have access to the training tools for little or no costs. I am finding now, in the last year or two, that my game had fallen off, and that I needed to learn the new tips and tricks. I have found that working with other people is so helpful. There are ways to do that now online, a Discord chat group, a Slack channel. Even if you're not an active participant, just reading the contributions have improved my game tremendously. But better than that if you get 3-4 friends together that you can talk to about poker and come up with new theories, then that's a great tool. The Germans have succeeded because of that."
I ask Chad how he feels about his status as a poker player being someone from the media?
"It's going to be interesting in this tournament, and I have thought a lot about this," says Holloway. "People are going to know me as 'the media guy'. They are going to know that I am out of my element playing a $25k so I assume they are going to put more pressure on me, and attack me more, or some may be sympathetic and not three-bet me as much, who knows. At the same time, I have been in this industry for a while and have had a front-row seat in these high rollers, watching their games and documenting their hands. I feel like I have gotten playing experience with them without having to put up money until today."
So Chad doesn't feel like an imposter?
"There are times I feel in limbo – am I player or a media person? For me, I was a player first and a writer second, and maybe that will always be the case. Do I belong? I guess I am always trying to prove at least that I do with the limited opportunities that I get. It keeps me hungry to study and to try and compete and not get complacent."
And how does it feel to sit down and play in the $25k buy-in PSPC with the opportunity to win millions?
"It's pretty surreal," says Holloway. "Now I am here feeling the atmosphere it's electric down here. It's likely the only $25k I am going to play, so I am not trying to take it for granted. I am going to try and absorb the entire experience, and try to play my best game. As long as I leave it all on the table, I think I will be happy with the thing."
And the envy returns…​