David Haye is indisputably a top boxer. He is a former cruiserweight and heavyweight champion with a total record of 28-4, with four wins by knock out. He is the first British pugilist to make it to the finals of the World Amateur Boxing Championships, having taken the silver medal at the tournament in 2001. However, he might not yet be ready to make the jump to poker.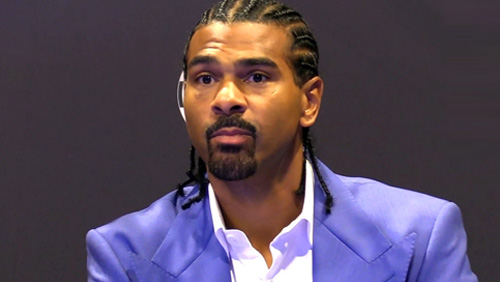 Haye recently participated in a side poker tournament during the Grosvenor UK Poker Tour (GUKPT) Blackpool series. He joined 127 players at the event and entered in preparation of his participation in the GUKPT Goliath in 2019, where he has hoped to win his first major poker title.
If this match was an indication of his performance, he has a long road ahead in order to pick up a title. Haye was eliminated in the first three hands of action.
Not much is known about his performance at the tournament. He entered and left so quickly that no one really knew he was there. He was relegated to watch from the rail as his mentor, Jeff Kimber, continued pushing forward. Kimber said afterwards, "He's got loads to learn but he's a champion sportsman and that competitive edge means he wants to learn more and get better."
Haye admits he's not the world's greatest poker player. He has referred to himself as a complete novice and has almost no experience at the felt. His greatest claim to poker fame is from 2014, when he participated in a promotional event for Full Tilt before it went belly up. He has said on at least one occasion that he still confuses spades and clubs.
Haye is a fighter, though. He has the spirit and the desire to bounce back and keep pushing forward. He still has several months to prepare for the big day at the Goliath and anything is certainly possible.
Even if he doesn't excel at the tables as he has in the ring, simply appearing at the Goliath will give a huge boost to Grosvenor. His celebrity status should go a long way to attract new players and increase the casino's bottom line. Given that remote gaming tax is going to increase by 6% in 2019, operators need all the help they can get.