We continue our dig into the habits and routines of professional poker players with a look into the faculty and foibles of the Grosvenor Casinos sponsored pro, Jeff Kimber. 
I first played with Jeff Kimber during a Grosvenor United Kingdom Poker Tour (GUKPT) side-event in Cardiff Bay. He was seated to my direct left. The game was Pot-Limit Omaha (PLO). I couldn't hold four cards in my hand without showing the whole table. I was so nervous my face started to swell like I had Diphtheria.  He knocked me out. The Bastard.
I have never spoken to him, verbally, but he reacts to Facebook Messenger quicker than Keith Floyd used to respond to a glass of French Champagne thrust under his nose while he waited for his souffle to rise, and for that, I will forever be in his debt.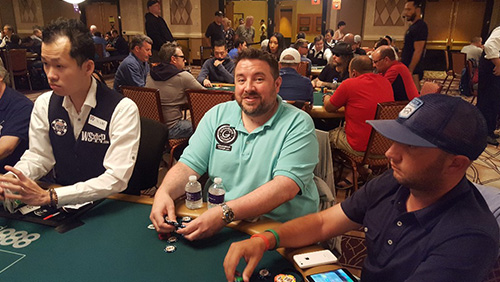 Hendon Mob shows that Kimber has won $1.7m in live tournaments, with most of his regular beans coming on the GUKPT. In 2006, he finished ninth in the World Poker Tour (WPT) Bay 101 Shooting Stars event for $100,000. A year later, he won the €2,500 buy-in World Heads-Up Championship in Barcelona for €125,000, and in 2009, he finished runner-up to JC Tran in a $2,500 buy-in Pot-Limit Omaha (PLO) event at the World Series of Poker (WSOP) for $145,656.
But most importantly, Kimber has been grinding a living out of this game for well over a decade and a half, let's find out how shall we?
What is your claim to fame? 
"Do I have to have one? Former World Heads Up Champ? GUKPT winner? Grosvenor sponsored pro? Interviewed Rob Lee, the captain of Newcastle, the week before the Cup Final when I was a sports journalist. And telephone interviewed Phil Jackson when he was the head coach of the Chicago Bulls." 
When did your aspirations to become a poker player begin? 
"Watching Late Night Poker. Not sure I wanted to be a poker player, but I watched it, then me and my sister played against each other while doing impressions of the legendary hushed toned commentary of Jesse May. I didn't want to give up my career as a journalist, but I'd been given six weeks unpaid leave the previous year which I'd spent in Vegas playing, and I wasn't going to be allowed the same again. I negotiated my first pro contract so knew I now needed to give up work, then negotiated a five figure pay off from work taking voluntary redundancy as my position was being relocated. If they'd said no I would have had to resign the next day but I got the bluff through!" 
How do you spend the first hour when you wake up? 
"Checking my phone, replying to messages from those who work normal hours, checking in with the i-pools team (i-pools is the fantasy and sports prediction site I own a small % of and think is going to be the next big thing! I look after the communications for i-pools and am so proud of it; we have a great team!)" 
What time of the day do you find it easier to play poker and why? 
"I could play anytime, but I hate early starts, I just don't think it fits the game. When UKIPTs (remember them) introduced, the 10 am start time I never played another. I hate the WSOP 11 am starts, what's wrong with midday! I don't wanna get up at 9 am to play cards! I think my stamina is as good as anyone's though; I can play very long sessions without a break and without making any (additional!) mistakes." 
Do you have defined goals for how many hands/sessions you play in a week: both live and online? 
"No, not at all, I think it's a mistake. I mean if the game is great and someone is giving money away am I going to stand up because I've won two buy-ins? The answer is no!" 
Where do you play online, what types of games, and stakes? 
"I play on Grosvenor Poker, plus a few other sites. I play 1/2 and 2/4 PLO cash games and mainly satellites in terms of MTTs. I've played as high as 400/800 on rare occasions in the past (though I'd stress I was short stacking!) and 25/50 regularly, but games are tougher. I'm not greedy, and you can win or lose plenty playing the stakes I play right now. As it happens, I don't think the games get much tougher the further up the ladder you go, there are some great players, but the splashy whales don't grind small stakes, you'll find them in the bigger games too." 
Same question for live? 
"I don't play enough live cash games. I find them frustrating, slow, and also there are a lot more rocks who are waiting to play the nuts, especially in PLO games. I'd rather play three tables of 2/4 than one table of 5/5 live. Tournaments wise I play every GUKPT, they're the original and the best, and I'm very proud of my record in them, with the most final tables and cashes. There's one of those every month, add in 7 weeks in Vegas in the summer, a month off at Christmas, and it's not too hard to fill your time with live comps. I'll play good tournaments away from the GUKPT anywhere, but I feel much more at home with Grosvenor than anywhere else." 
Do you have a specific routine that you go through before you begin an online poker session? 
"No, though I think maybe that's something I should look into. I'm convinced that those that review sessions and watch training videos have an edge, so my plan is to dedicate more time to do that this year. I treat the end of the WSOP as the time to make a kind of New Year's resolution, to improve my game, look at what I've learned in an intense seven week period playing a lot, what I need to improve and what I can learn from others." 
Same question for a live session? 
"I really try to be rested and unrushed when I play live, to the point I'd rather late reg or go and sit in the bar for 10 mins and miss some of the tournament than turn up having not had enough sleep, or rush to the table and into a big pot I'm unprepared for. Ideally, I like to be sat for the first hand and never miss a thing, but I think sleep/rest is so important that I'd rather miss hands than not play them to the best of my ability." 
Describe your grinding station set up. 
"I don't play enough big sessions to have one anymore. I did used to use a desk top, but now I prefer to play cash sessions online which can be as long or short as I like, I use a laptop sat in the living room." 
What tools do you use when playing poker, live and online? 
"I used to use HEM, but I found I wasn't making good enough decisions. I like to be able to track results and replay hands, but I don't like to rely on numbers to make decisions without at least watching how the player is playing. I find I'm more focused without a HUD, so I stopped using it. Live, I'm not sure what tools I can use, I have an iPad and some headphones?!" 
What're your thoughts on listening to music when playing? If you do, what do you listen to? 
"I generally listen to music when playing live, and also when I'm deep in the rare online tournaments I play (though that's more to make sure I have the TV off and am not watching it!). I like to try and use music to influence my play. If I'm playing too weak/tight, I get some Guns n Roses, other rock, or rap music on. If I'm tilted, I'll get the Jack Johnson, Ben Howard type stuff. During the WSOP Main Event, I played a song called I am Strong by Polly Scattergood over and over (a couple of friends told me they listen to just one song over and over all day so I tried it!) and made sure I played strong, not weak, as the lyrics say."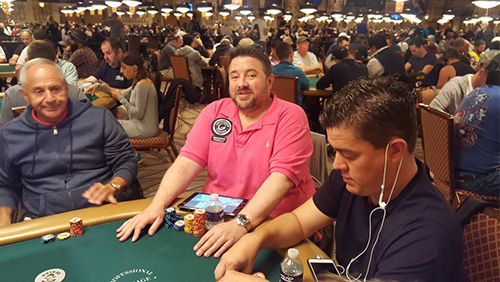 What system do you use for taking notes on your opponent's, live and online? 
"No real system, I colour code especially in cash games so I can spot good tables to sit at. Most of my notes are tales of woe with a hand history of some horrible bad beat they've put on me." 
Do you have a specific warm down routine after you have finished a session? 
"Does throwing the laptop across the room count?! No, I try and forget the session and do something else then come back to review big hands later/the next day." 
What do you do on the hour every hour when playing online? 
"Look at things like Facebook and email that I try not to do when playing." 
What do you do during the break of a live event? 
"Try and avoid listening to bad beats! Run any big hands/situations past players I respect, and also ask them for any info on players I don't know." 
What do you eat and drink when you play, both live and online? 
"No alcohol until maybe treating myself to a pint during the last level of the day! Cash games I would only drink to try and portray an image in a cash game where people don't know me." 
What is your process of review? 
"I try and review big hands before starting another session, either later that day or the next, but I think I could improve here." 
How do you educate yourself about poker? 
"Talking to players I respect. My WSOP resolution is to get back into strategy videos and brush up my game." 
How do you improve your mental state? 
"I don't think it needs to improve. My mental strength is one of my, well, strengths."  
How much of your time is spent playing versus learning? 
"90% playing. I think that's too much." 
How do you know when to stop a session? 
"When I'm bust! Seriously, I think that's a million dollar question and not one I know the right answer to. I sit out when I feel like there's not much value in the game anymore, or when the fish has left or gone bust." 
Are you consciously trying to emulate the style of a particular player? Do you have people you look to as models for your game? 
"No. I respect a lot of players and try and take the best bits of their games into mine. I was the only person in my class to get full marks for my GCSE Geography coursework. What I did is borrow three mates' work and improved their best bits and combined it all. I do the same with poker!" 
Is poker easy? Does it come naturally to you? 
"Yes, it's easy at a basic level. Sometimes you forget how good you are when you get put into a soft field of amateurs who you can feast on. But it's also a game where it's easy to be left behind if you rest on your laurels. When I first started playing live 12 years ago, some of the older players who I looked up to were set in their ways and didn't try and change their game to stay ahead of the curve. Now I'm one of the older players; I'm determined not to fall into the same trap." 
What is your favourite moment in poker? 
"Honestly I've had some nice wins and been proud of achievements, but watching close mate James Akenhead make the November Nine sticks in my mind as just a euphoric moment where everyone around me was pulling for our mate, and he made it. We had a trip back to Vegas to look forward to in November, and one of the good guys had a chance to be world champ." 
What books/courses/mentors have helped improve your game (doesn't have to be a poker book)? 
"None really. I've read a few poker books and like some of the ideas they bring, but really I think poker is about finding your way and style to compete." 
Do your surroundings affect your work, how? 
"Not really no." 
Was there ever a time when you didn't want to play poker? How did you get out of the funk? 
"Nope, I still love the game. Sometimes I think of it as 'just a job' rather than something I'm going to have fun at, but I still love it." 
How does poker make you feel? 
"Happy, sad, elated, frustrated…and that's just in one orbit." 
What is the one thing you know you have to change after answering these questions? 
"Agreeing to complete a questionnaire without checking how long it is! I have my post-Vegas resolutions and completing this just makes me extra determined to put them into action to make sure by the time I get to Vegas next year I'm in a better position to win." 
What is the one question I didn't ask but should have asked, and now answer it? 
"How do you react to others' success? –  I think it's almost natural to be jealous, to think why them not me, but use that to drive yourself on and to remind yourself that if they can do it, so can you. I have a great group of poker friends of, in all honestly, a mixture of abilities, but I love to see each one of them do well, as long as it's not to my detriment. I think I could be a very good poker coach, and almost feel better suited at solving poker problems away from the table than at it. If one of my friends has a deep run in something, I think I'm a great ally!"