3: Barrels of a PokerStars vintage with the launch of a Hold'em/Omaha hybrid called Fusion, an increased quote in high roller content, and a heart problem for Lex Veldhuis.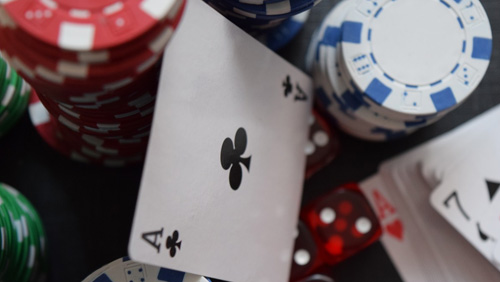 I got conned into watching The Last Kingdom last night. The boss, who takes her Life in the UK Test on Friday, convinced me that several hours of the Viking gorefest classed as revision.
I learned one thing.
Don't mess with the Danes.
PokerStars get it.
There is a brand spanking new game in the PokerStars lobby. It's called Fusion, and while I doubt we will be competing for Olympic gold in the game, it looks as good as pumpkin pie.
Only, I have to wait to do my experimental nuts.
Only one nation gets a taste.
Yes, you've guessed it – the Danes.
Pokerfuse blew the lid on the new game back in September although details were as sparse as a basketball court in the UK. The consensus was Fusion would be a form of Irish Poker, where you start with an Omaha style starting hand before ending with a more traditional Hold'em hand, and it transpires the reverse is true.
In Fusion, you begin with two hole cards, and the betting remains the same as in traditional Hold'em. Then comes the flop, and the dealer gives you a third hole card, face down. On the turn, you get a fourth hold card, face down, and by the end of the action, you have to make a five card hand, using two from your hand and three from the board.
The game is available across limits ranging from $0.02/$0/0.05 with a $3 buy-in all the way to $25/$50 with a $5,000 buy-in and is only accessible in cash game format.
"We want to give our players games that they have never played before and bring a unique offering to the table," said Severin Rasset, Director of Poker Innovation and Operations. "Fusion mixes two well-loved formats together, giving an exciting twist to the game. We eagerly await player feedback and look forward to seeing everyone joining the tables and giving Fusion a try." 
It's the fourth new variant of poker to appear on the PokerStars client in the past 12-months after Split Hold'em, Showtime and Unfold, none of which remain in situ, so don't expect this one to last too long before it's taken down for re-evaluation.
The game launches on the .COM, .NET, .EU, and .UK platforms once the Danes have stopped raping and pillaging it.
The High Roller Club
The other significant change at PokerStars this week is an increase in high stakes action from 25 events per week to 45.
The plan is to host seven events with buy-ins ranging between $530 to $2,100 on Tue, Thu and Sun, and six on the remaining days.
Here are the six events.
$530, $150k GTD Bounty Builder High Roller
$530, $50k GTD Daily 500
$530, $50k GTD Daily Supersonic
$1,050, $100k GTD Daily Warm Up
$1,050, $100k – $225k Daily Themed $1k
$1,050, $100k Daily Cooldown
The seventh event is a $530 Omania High Roller.
On a Sunday, the Daily Themed $1k transforms into a $2,100 Sunday High Roller, the Sunday Cooldown rises to $2,100, and the Supersonic moves up to $1,050.
Lex Veldhuis' Heart Issues
We end this triumvirate of PokerStars related news stories by sending PokerStars Ambassador Lex Veldhuis a kiss and a hug.
On Oct 28, Veldhuis reported on Twitter that a heart irregularity resulted in him collapsing in the street, and a doctor later put it down to fatigue and stress.
Check it out.
I'm sorry guys I have to cancel my meet and greet today. Im fine, don't worry, but I collapsed on the street yesterday.

At the clinic they checked my vitals and said my heart showed irregularities most likely related to stress and fatigue.

I'm fine now! But need to go home.<3 pic.twitter.com/SzxAbrErCf

— LexVeldhuis (@RaSZi) October 28, 2018
On Nov 6, Veldhuis posted a second tweet saying that he's still not feeling tip-top, and his doctor has ordered him to rest, and do nothing until they have carried out further tests.
Check it out.
Got a second opinion. None of the necessary tests have been done apparently. Gonna have a full check-up hooked up to a heart monitor this week. Doc ordered me to do nothing till tests were done.

Sorry for saying I'd 100% stream. I really need to have this checked out. <3 pic.twitter.com/mR46uCpHxV

— LexVeldhuis (@RaSZi) November 6, 2018
Veldhuis has become one of the most popular poker streamers across the Twitch platform culminating in a stream during the World Championships of Online Poker (WCOOP) that pulled in 32,839 concurrent viewers.
You don't become as successful as Lex without a seriously hard work ethic, and I have seen this guy in action at the Triton Poker Series, and he puts in the hours because he loves what he does.
Let's hope he can find the right balance of work, rest and play.
We wish him a speedy recovery and hope the results come back with a win.