Lee Davy talks to Severin Rasset, Director of Innovations and Operations for the Stars Group, to talk about the creation of Split Hold'em and the decision to resurrect the Sunday Million Anniversary special with Take 2.
When Gary 'The Sleeper' Acreman and Eddie's Dad Steve joined our local home game, everything changed. It went from a £1/£1 No-Limit Hold'em cash game where you would win or lose a few hundred a night, to a £1/£1 Dealer's Choice game where you would win or lose thousands.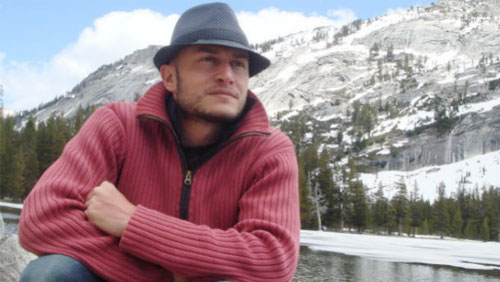 And there was one game I hated with a passion.
Double Flop.
It was Eddie's Dad Steve that introduced the game. Steve is a fish. Tired of losing pot after pot playing No-Limit Hold'em and Pot Limit Omaha, Steve launched a crazy new concept where you played with two boards and six cards in your hand.
Steve didn't like folding, and when you played six-card double flop, you always had a piece of the board, making it difficult to fold. And yet despite the increased variance in the game the skilful player should have still won over the long-term.
The gamblers loved it.
I hated it.
It turns out that I was the fish in this game.
I haven't seen Eddie's Dad Steve in a long time. I wonder if he's working for Severin Rasset over at the Stars Group?
PokerStars recently released a brand new game called Split Hold'em, and it reminds me of the game Eddie's Dad Steve gave me a whipping in all those years ago.
I sat down with the Severin Rasset, Director of Innovation and Operations for the Stars Group, to ask him how a game like Split Hold'em begins as an idea and then ends being a choice in the PokerStars gaming area?
How does PokerStars take the germ of an idea and grow it into something like Split Hold'em?
The concept of Split Hold'em begins with a question: what are the challenges that we face? We look at our trends, some are basic and obvious (it needs to work on a mobile), then we look at other nuances. We are like any other company in the world. We have to continue to adapt our products to make sure they reflect the needs of our players and so we try to identify trends. We ask our players to describe their pain points when they play. What don't they like, what would they like us to do differently? We don't ask them specifically to think about the productiveness of the answer. We ask them what their issues are. Some might struggle to find the time to play games. Others might find poker too difficult. We then convert these answers into brainstorming sessions and try to solve our customers' problems.
We have internal teams dedicated to innovation. They will start to brainstorm ideas on a broad spectrum. At this point, we're only thinking about the creative part of an idea. We are less concerned with whether or not it's doable, whether it's too technical or complicated. After that, we begin to eliminate the ideas that do not match what we're looking for.
At some point, when we have about five or six ideas that we think match our customers' needs, we test them as an Internet prototype. This testing phase transforms the idea.  It allows us to make sure that what we have in mind is actually deliverable when we play. To this end, we try to involve a mix of experts in the area and people who are less familiar with poker. We will sometimes invite people from other departments around the business to play and collect their feedback.
Finally, we whittle things down to one or two games that undergo more intense focus. By this point, we want to make sure the game has merit and meets our criteria. This is the phase where we start to green-light something and begin the development process in earnest.
How do you communicate with customers on things like this?
We do this on a one-to-one basis with more advanced players. A live event, for example, is a good opportunity to engage with a passionate community. But you have to remember that they understand the game quite well. Their ideas will be pretty advanced, and this means you won't always get a full picture of your customer.
The more challenging part is to capture the voice of the people who do not speak poker naturally. Even then, the results of any survey are just one part of a full answer. You have to keep in mind the potential for self-selection amongst those who are willing to reply in the first place and find the best way to try and hear what everyone has to say.
You also have customer care; we call it 'the voice of the customer', where we try to collect as much feedback as possible from people who are in contact with us. We try to merge these different profiles to find game variants to match. But you cannot have one game addressing all player needs. To that end, we always have a primary and secondary profile in mind.
We have very different players. We have players who have been here for 15 years – they play live events, they understand the game as much as we do – and we have players who are just entering through the door. We try to understand these different needs and cater to them in the products we build.
Who brainstorms the ideas?
We use a lot of poker experts because their game theory knowledge is essential. There is a big difference between a game designer who doesn't know anything about poker and one who does. Recently, we also introduced pure game design expertise to the process. We got in touch with a third party game design company and got them involved in the brainstorm. It allows us to give them a brief and they provide a perspective outside of the traditional poker player mentality.
What metrics do you use to distinguish the success or failure of a game? 
Generally speaking, our metrics are the number of unique players using the game and their activity levels. We also have some ad hoc KPIs based on anything from recruiting new players to engaging existing players. In that sense, KPIs can vary a little bit from one product to the other.
We continue to innovate and create new games, but we want to make sure our players can find games very easily and very quickly. So, by removing games that are less successful, we can make room for new ones without confusing players, who may not know the difference between them.
When it comes to removing a game, the intention is always to tweak it and make improvements before withdrawing it entirely. If those changes are successful, we will keep it. If not, we will turn it off.
What are the primary pain points you are trying to solve for your customer?
One question we always ask ourselves is 'are customers having as much fun on our games as they used to?'. For example, some players might switch games after playing one for a long time. If that's the case, we try to speak with them to see if we can do anything to make the game more to their liking. It's based on this sort of feedback that we create games like Split Hold'em.
Is Split Hold'em a gambling game, or will the grinders like it also?
We want to see how our players are going to adapt to the game. To me, the beauty of not imposing limitations on a game like this is being able to watch players' strategies evolve with their understanding. By not tweaking a successful variant you also force more experienced players and recreational players to resync a little bit of the play.
I have no doubt that the better players are going to adapt quicker. We want to understand how the skill gap evolves and how much time it takes to understand the strategy and master it. Monitoring this evolution is important. It's a competitive game, so it's quite important to have this skill gap and to maintain it to the right level.
How important is the role of skill when you choose to create a ga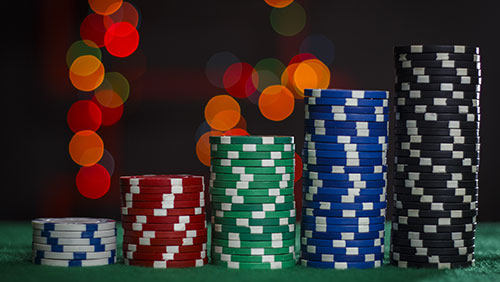 me variant?
The competitive aspect and the fact that you get better over time by studying the game is quite important to me when we build. Split Hold'em, for example, looks like it would be advantageous to recreational players because they can win 50% of the pot. However, the better players will be quicker to adapt.
One example is that you will likely need to be more aggressive pre-flop to protect your hand, and that's an adjustment that is made quite quickly by good players. So, the answer to the question is a clear 'yes'. To me, it is quite important that we create games that preserve the skill aspect.
Sachiko Gaming launched PokerStars.IN recently. Given that poker is a new game/sport in India, and there are still regulatory issues, is it important to keep more gamble-heavy game variants out of these regions until lawmakers are more comfortable with the idea of poker as a game of skill?
Split Hold'em is a skill game in the same way as No Limit Hold'em. I think that the answer to your question is that we can adjust which games are offered to different regions. Some like the gambling aspects more, others will want to take their time and discover the game. Rather than focus on India as a country, the question revolves more around where we are with poker in India, today. I feel that it is still a very young game there. People are used to playing other games, so I think a simpler approach has some merits. Players have more time to get on board with the beauty and simplicity of poker before being introduced to something more advanced."
In February, PokerStars rewarded customers by guaranteeing $10m in prize money to celebrate 12-years of the Sunday Million. The event fell short by more than 11,000 players, resulting in a $1.2m overlay, and the PokerStars naysayers had a field day.
How did the team react?
They are going to give it another shot.
On Sunday, the flagship Sunday Million event will once again carry a $10m guarantee, and I ask Rasset how they felt after missing the guarantee, why it failed and why they are trying again? 
What happened when you woke up to discover you had a $1.2m overlay on your Sunday Million Anniversary Special
We live the experience as it's happening. The whole tournament team watches. We knew about the overlay two hours before the end of registration and that it was going to be approximately one million. So, you don't need to wake up to the news; you go to sleep with it.
This is not something that I can be happy with, but at the same time, we also guarantee more than $1.5 billion in tournaments every year, so we understand our risks. We accept that. Obviously, I prefer it when we do not have overlays, but it's part of what we do. I'm happy to try again.
Why didn't you hit your goal?
To us, there was a very clear answer, and that was the Sunday Storm, which ran on the same day and still attracted more unique players than the previous year when it was standalone. The $11 buy-in with a $1 million guarantee was cheaper and attractive enough for players to choose it over the $215 buy-in for the Sunday Million, which had $10 million guaranteed.
Our original intention was to create a great day of poker with the Sunday Million Anniversary and the Sunday Storm Anniversary running on the same day. So, that was what we did. Take 2 will run on its own, though, and that's why we think that we're going to be able to do it this time.
Why are you doing this?
We like to offer these big guarantees. We think they make a difference and our players enjoy them. One of the reasons PokerStars has been so successful is we have been able to distinguish ourselves with huge tournament guarantees. It's a USP.
The thing is, our players have a busy schedule with us, and they know what's coming up, particularly with the likes of WCOOP and SCOOP running every year. So, after the initial Sunday Million, we had a discussion and said this might be a good opportunity to do it again and surprise our players, to do something they do not expect. That's why I'm doing this. I believe that this kind of thing is good for our players. It's how you create long-term excitement and engagement.
I don't think our players' loyalty is based on how much money they make. We want to create a poker player's dream by offering the type of tournament that, when someone wins it, they remember it forever.
How much did partypoker's presence play a part in this decision?
I think overall it's good for poker if several voices are pushing for the game and saying it is great to play. Everybody will benefit. We respect everyone around us, but we have our own strategy. We want to engage players by doing what we believe is right. This is how we feel we'll create the best value for everyone. Thinking about the players first to me sounds much better than looking at the competition.