Macau's gross gaming revenue (GGR) for October saw a little improvement over the same period last year. The GGR for the month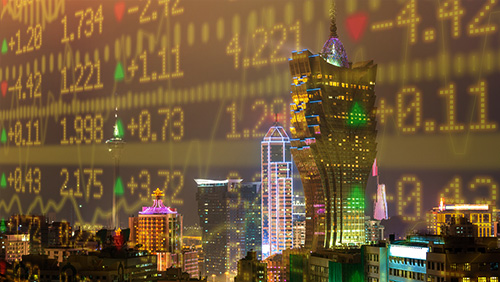 increased by 2.6% year-on-year to $3.4 billion, but this was less than the 2.8% seen in September. September was a particularly difficult month, as Macau had to confront Typhoon Mangkhut. The October numbers fell below previous analysts' forecasts, which had expected a growth rate of 3.5%. On a positive note, overall GGR for the year has increased by 14.3%.
There are several factors that have to be taken into account as possible contributors to the slow growth. Union Gaming's Grant Govertsen points out that China's President Xi Jinping recently visited Macau for the inauguration of the bridge that connect Hong Kong, Zhuhai and Macau. He emphasizes, "Any time a high ranking official visits the region it has an impact on Macau."
Govertsen also notes the long holiday period that occurred in September. Because many travelers had taken off extra time that month, they weren't able to take more time in October. Govertsen explains, "As such, we believe it is likely that Macau missed out on some number of trips that ordinarily would have come to Macau during early October."
The analyst also states, "Historically, holiday periods like October's Golden Week and Chinese New Year were massive VIP-centric months with notable GGR swings. However, with VIP never having accounted for a lower mix of GGR than today (we estimate only 45% in 3Q18), the traditional holiday volatility is receding and should continue to recede, especially with VIP under-performing mass market for the time being. With this in mind, and considering that VIP last year not only represented a greater mix of GGR but was also growing faster than mass, this resulted in a particularly tough situation beyond the headline +22% comp."
There is another reason the decline may have happened, which could be in conjunction with Govertsen's analysis. The drop could also be a result of downward pressure that is effecting the economy. That pressure is a result of the ongoing trade war between the U.S. and China, and the announcement marks the first time the government has acknowledged that the trade war is having a negative impact.
However, any impact should only be temporary. Govertsen said that Union Gaming expects a growth rate of 8% for November, with overall fourth-quarter growth of 7%. 2019 could see "mid/high single digits."
Comments