The men and women wearing fsociety masks were at it again this week, this time bombarding 888Poker with a series of Distributed Denial of Service attacks, upsetting the online giant days before they roll out their XL Eclipse Series.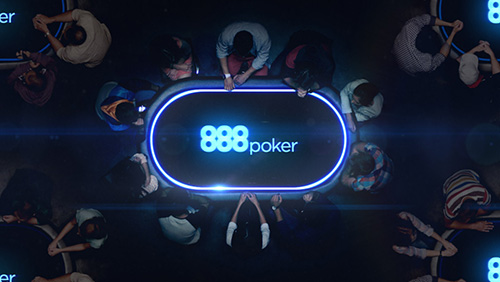 I've just turned the last page on a book of poems written by a man during the final days of his death. It makes me feel sadder than a cane sitting in a headmaster's cupboard in 1987 and pushes my foot down on the accelerator.
I have shit to do before I die.
I need to get it done.
I don't have time to waste.
I can hear the voice inside my head as shrill as steel scratching a blackboard.
So it boggles my mind with so much for people to do in the world before they finally peg it, that some spend their time subjecting online poker rooms to Distributed Denial of Service (DDoS) attacks.
Why?
Do they think they're in a movie?
Do they believe someone will pay the ransom?
Wake the fuck up.
888Poker Suffering from DDoS Attacks 
Last month, the Winning Poker Network (WPN) had a few friends in the online poker playground after online giants PokerStars and partypoker began receiving DDoS attacks. The attacks caused significant ripples in revenue and public confidence and came at a time when the pair were about to embark on the most significant September in their histories.
Only one poker room sat alone, by the swings, eating fish paste sandwiches – 888Poker.
They aren't alone no more.
According to reports surfacing on every poker media outlet that Google spits into your face, 888Poker has been experiencing DDoS attacks to some degree or another since September 5.
An 888Poker rep posted this on a 2+2 thread on the disruption:
"As many of you may already know, we have experienced intermittent disruptions of our service to you due to DDoS (Distributed Denial of Service) attacks. This has affected our ability to provide you with a comprehensive poker experience. On behalf of the team, I apologise for the inconvenience caused and want you to know that the entire 888poker Team continues to work diligently to mitigate these attacks. Addressing technical issues, outstanding member concerns and restoring normality to our poker room is our top priority. As you can imagine, our contact volumes are much higher than usual; therefore there may be delays in our responses. We appreciate your patience and understanding as we continue to work to get our service to you." 
The bombs are booming.
The timing is awful.
888Poker Prepare to Launch XL Series
On Thursday, 888Poker launch a 34-event XL Series, and the last thing they need is a DDoS attack. The series runs from Sep 13-23. Here is the schedule and the highlights:
Thu 13 Sep – $109 buy-in, $100k GTD Opening Event
Sun 16 Sep – $215 buy-in, $100k GTD Mega Deep
Tue 18 Sep – $2,600 buy-in, $200k GTD High Roller
Sun 23 Sep – $215 buy-in Main Event Satellite (50 seats GTD)
Sun 23 Sep – $1,050 buy-in, $1m GTD Main Event.
Las Vegas-based, 888Poker Ambassador, Chris Moorman, will feature. The man who recently won his 29th online triple crown will set up camp in Mexico. The former World Champ, and 888Poker ambassador, Martin Jacobson, will tune in from his London apartment. Teammate, Dominik Nitsche, who chopped the $1,050 Main Event back in 2016 for $206,400 when the series operated under the name Super XL Series Main Event, will compete once his Poker Masters duties are over.
Now where did I put that mask?