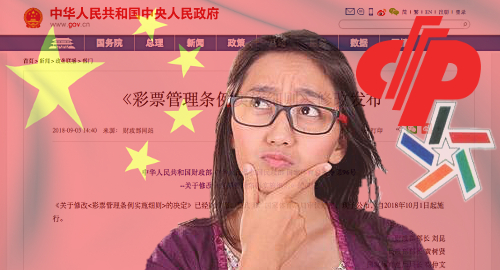 China has officially put online lottery sales in the deep freeze, at least for the foreseeable future, following changes to lottery rules.
On Monday, China's Ministry of Finance issued updated rules on lottery operations that redefine the term "illegal lottery" to include "welfare lottery tickets and sports lottery tickets sold by the Internet without authorization." The changes will officially take effect on October 1.
The document, titled Amendments to the Regulations on the Administration of Lottery Regulations, follows a joint communiqué issued last month by 12 Chinese ministries and commissions "resolutely prohibiting the unauthorized use of the Internet to sell lottery tickets."
Online lottery sales were suspended on a 'temporary' basis in March 2015 after a national audit uncovered rampant corruption at provincial lottery administration centers, including the failure to report all online sales to Beijing.
Online lottery sales were never formally legalized, but Beijing had authorized two operators to participate in a 'pilot program' to study the effect of online sales. In reality, many other operators, including some of China's technology giants, openly engaged in online lottery operations.
The continued existence of online sports lottery products became patently obvious during this summer's FIFA World Cup. In June, state-run media criticized domestic tech firm Tencent for permitting unauthorized gambling operations on its networks. In August, tech giant Apple purged thousands of gambling and lottery apps from its China-facing App Store after coming under criticism by state-run media.
MIXED MESSAGES?
Confusingly, China's official lottery website issued its own statement on Tuesday titled 'Building a new era sports lottery centered on the people." The statement suggests that one of the chief obstacles to lottery growth is the fact that it is "extremely inconvenient for some remote suburban residents to purchase lottery tickets."
The statement goes on to say that one of the ways to make lottery sales more convenient would be to "vigorously explore new ways of 'Internet + lottery.'" Another option would be to "try to build a sports lottery TV shopping platform with the radio and television network," so as to allow lottery customers to "enjoy the fun of buying and winning without leaving the house."
Suffice it to say, China appears to want to have its online lottery cake and eat it too, or there's been some serious miscommunication between the various branches of government. Either the key takeaway in the Ministry's announcement is the word "unauthorized" or the coming days will likely see some lottery boss hanging his head in court, flanked by two very unsmiling guards.