Another interview from the PokerStars European Poker Tour Barcelona, with Lee Davy sitting down with Jaime Staples to talk about his Platinum Poker Adventure: The Ultimate Sweat, and a few existential questions thrown in for good measure.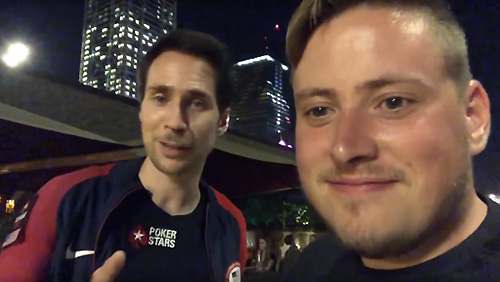 I'm sitting in the media room.
It's a bad day.
I can't rise above the funk.
Jaime Staples walks in, tripod in hand – "When do you want to do our interview, man?"
I love that.
He knew we had a commitment, and rather than let it slide – and he's a busy, busy, bee – he came looking for me. I like this young man, more and more.
My mood lifts.
We step outside, find a poker table, take a pew, and fire up the questions:
Could you begin by giving me an update on your Platinum Pass Adventure (PPA) project? 
"PokerStars came to me with the opportunity to give away a $30k Platinum Pass, so we had to come up with an idea about how we would go about doing that," Staples tells me. "We thought, that in honour of Ultimate Sweat we would create a challenge for life improvement. It's not fair to have to be obese or underweight to do it, so we figured we'd make it about life improvement, so people can set their own challenges.
"People have to set a challenge they would complete over three months, they have to document the process, and at the end, I will nominate five, and it goes to a jury vote.
"We have seen a crazy amount of entries (150), from people learning to fly a plane, learning Japanese, of course dropping weight, gaining weight, stopping smoking, weaning off caffeine – the type of personal challenges human beings have."
If you want to take a peek at the full list of entrants, and the weird and whacky challenges they intend to undergo, then here you are.
If you're unfamiliar with Jaime Staples, spend six minutes watching this video.
After watching it, it dawned on me that for broadcasters such as Staples, you can easily suffer from Truman Show Syndrome. At what point does your life stop being 'content', and instead, becomes 'life'?
And how much pressure is there on broadcasters to set high standards, personally and professionally, and maintain that standard. Where does ego fit in? What happens when we start behaving out of alignment to our core values?
It's enough to drive people to the counselling couch, and Staples recently did just that and shared his lightbulb moments on Twitter, so I ask him if he wouldn't mind sharing his experience. 
"Since the Ultimate Sweat I, I have embarked on a new challenge: Ultimate Sweat II, and it hasn't gone as smoothly as the first one. I made some big changes right after I attempted to quit smoking. I was successful for two months and put on a lot of weight during that process. Then I relapsed, and I am now smoking.
"On top of that, I developed anxiety for the first time in my life. I didn't know what that feeling was so I thought it would be smart to reach out to someone that could help me through those experiences and give me some context as to how I am feeling and some real-life strategies to learn to cope."
Anxiety is something we all feel. It's a necessary human condition. But how does it feel when your levels of anxiety reach a summit the body and mind have never climbed before? 
"It's very new for me," Staples admits. "It feels like a shot of adrenaline that won't leave, and there is the fear of what's wrong? I check my pulse, and it's fine, but I have this tightness, this anxiousness in my chest. It felt like not being ok for no particular reason."
In Ultimate Sweat, I, Jaime and his brother Matt shook on a $150,000 prop bet with Bill Perkins that the pair would weight within one pound of each other in 12-months time.
The Staples brothers won the bet.
Jaime looked like a Calvin Klein model.
The brothers didn't have time to blow out the candles when Perkins offered them a double or nothing proposition.
Reach 9.9% body fat within a year.
The pair of them.
Another $150,000 on the line.
With all the Vlogs, streams, tweets, FB updates, and Instagram snaps, I wonder if the spotlight is beginning to burn into areas of Staples psyche that have forever remained in the shadows? 
"Certainly, the spotlight is black and white. There is a very clear win or lose on this bet," Staples confirms. "I think it's a combination of the pressure that comes along with that, and then experiencing what felt like a failure to me – going back to smoking. It's the first real major failure I have felt in years, so it was a step back. That caused some uncertainty and set me back a bit."
I ask Staples if God (Universe, Thor, I don't care) was to grant him one favour right now, what would he ask for?
"Does it have to be for me?" Asks Staples?
"Yeah, be personal." 
"I think I would adapt my mindset to be content with who I am no matter what," says Staples after a brief pause. "Not necessarily to kill my ambition, goals and dreams, but to accept who I am or what I become no matter what. To not look back at me as a failure if I don't get to where I want to be, but still, have the ambition to go for it."
Poker is a zero-sum game.
Staples doesn't seem like a zero-sum guy.
I ask him to recall the one thing he feels guilty about in life? 
"Sometimes I think what I am striving for in my current environment is a little self-serving," says Staples. "I think it's something I will adjust over the long run, but I am pretty selfish over the lifestyle I lead, and a lot of the content I have created up until this Ultimate Sweat event, which is hopefully causing a ripple effect and helping out, I think I am pretty selfish."
I am curious.
Was there ever a time when Staples felt spiritually repressed?
"I don't think I can name a specific instance," says Staples. "I am not a very spiritual person. I am not religious. I don't have anything against it, but it just hasn't appealed to me."
What about a time when Staples felt all alone? 
"I think before I started streaming, my issues regarding my weight, I didn't think a lot of people really understood what that was like inside my brain," says Staples. "I felt there was a lack of empathy from people on that issue. That was something I felt on my own.
"I would also say, early in my streaming career where there were very few people creating content for poker. Even with the companies that sponsored us, it was difficult to have a dialogue with them, so I felt like there were a few people doing the same thing I could talk to professionally about how to improve and move forward and they weren't particularly interested. It's a small niche, and it's kind of lonely at the top. You're looking for that surrounding to rely on and it's not there."
There is a great Smith's tune that I love called There is a Light That Never Goes Out and there is a line I love firing into my comb in full Morrisey regalia.
And if a double-decker bus, crashes into us.

I ask Staples if a double-decker bus was to crash into us, what would have been his most valuable purchase to date.
"I don't assign much value to material things," says Staples. "My biggest degen purchases, if you will  – I will buy a piece of art if I have a score online of more than $5k. I will buy business class flights because I like sleeping on the plane. I can't pinpoint anything particular; I am living in a suitcase. I think I would go with my computer."
When there's anxiety, there is a fear of something.
I ask Staples where he thinks the majority of his fears come from?
"I think in a broad sense it would be purpose and meaning," says Staples. "How do I live a purposeful, meaningful life, and am I doing the right thing in that regard, or am I spinning the wheels."
There was a time when Staples was just Staples, sitting in his bedroom, playing online poker, unknown to much of the world. Then he became one of the most popular broadcasters. Then PokerStars hired him. Then he joined Bill Perkins on the Loveboat.
As Staples climbs each step, he becomes exposed to a more vibrant network of people, both intellectually, financially, and emotionally. Does this then have a negative sheen whereas he is always looking at what others are achieving and questioning if he is making the right moves? 
"I think there can be an element of that," says Staples, "but I try not to measure myself against people like Bill Perkins. I see it all as relative. Going back to my Ultimate Sweat competition it's amazing to see people who are starting at the very bottom and whose goals are very humble, compared to people living on yachts who want to set a goal; so it's all relative, and that doesn't really bother me. It's more intrinsically, without a guiding spiritually what is my purpose and what will provide meaning in my life over the long run?"
If Staples could rid the earth of one thing, what would it be and why? 
"I was going to say irrationality, but that would make the world pretty boring, so we won't roll with that," says Staples. "I am going to go cheap on this one and go with mosquitoes."
And finally, I ask Staples, if he were to decide today to do some serious soul-searching, what is the first question he would ask himself?
"When I am 40, 50, 60, 70 years old, and look back at what I am doing now, would I be content with that?"
Would he? 
"Yes, but if I was to stop now, I don't think so. But given my current age and what I have done to this point, I am content."
And I hope after reading the answer to his last question, the tightness in his chest migrates to another world, because this young man, is doing well.
Very well.