As news circulates that the Spanish tax authorities are chasing the German poker player Hossein Ensan for back taxes relating to a 2014 third-place finish in the European Poker Tour Main Event in Barcelona, Lee Davy wants the live tournament organisers to do more to raise awareness in this crucial area.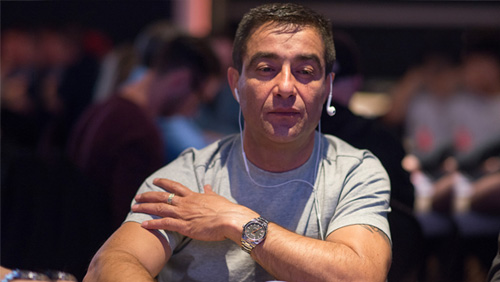 There have been more than seven earthquakes in Indonesia this week. I am in Sanur Beach, Bali, with my wife and two-year-old daughter. As a father and a husband, I believe part of my role is to protect them both.
How do you protect your family against Mother Nature?
I feel like a goat on the end of a Balinese leash.
I cannot break free.
I don't know what to do.
I don't have control.
Soon, my blood will spill, and everything will go dark.
"Where is my face?" My daughter asks when I turn the lights off.
I don't want the lights off, permanently.
So, the only option is to get the hell out of dodge.
The European Poker Tour (EPT) in Barcelona is my salvation. I will use a Red Spade to dig me out of this hole.
Bon voyage, earthquakes, tsunamis and killer mozzies.
I wrote about my Bali experience somewhere else; somewhere you might want to be. A responder told me that I was too cynical and should be more grateful.
So here it goes.
I am grateful to PokerStars, and the offer to fly to the EPT in Barcelona to provide you with some cracking content.
But, it seems, there may be a few people who would prefer to fly in the opposite direction.
Hossein Ensan, perhaps?
Who is Hossein Ensan? 
Hossein Ensan is a German-based poker player who counts wins in the  2017 World Series of Poker Circuit (WSOPC) Main Event in Rozvadov and the 2015 EPT Prague Main Event as two of his most significant accomplishments.
All told, Ensan has made the final table of the EPT Main Event three times, and that's no mean feat given this competition's standing in the world of poker. In 2015, he finished sixth in EPT Malta, but it's his third-place finish in EPT Barcelona a year before that's the topic of this particular conversation.
All told, Ensan has won $2,667,630 playing live tournaments, and the €652,667 he banked in Spain remains his most significant sum to date. But he didn't deposit that amount, did he?
Ensan v The Tax Man 
It's rare that a poker player collects 100% of the purse, in any event, let alone a game of the magnitude of the EPT Main. Players spread their variance by swapping pieces and also sell action to reduce the cost of the buy-in.
And then you have the tax man.
And this is where Ensan comes in.
The German star recently wrote to the poker media outlet PokerFirma to raise awareness of his legal battle with the Spanish tax authorities, who are trying to seize €235,500 of that 2014 windfall.
PokerFirma is a German-speaking outlet, and so I had to use Google Translate's most beautiful English. You won't get specifics. Essentially, Ensan told reporters that he has already paid taxes on his win back in Germany and that the double-dip by the Spanish authorities is out of order.
Ensan has hired a Spanish tax specialist to defend his case.
The PokerFirma article spread like wildfire after partypoker ambassador Patrick Leonard tweeted this.
https://t.co/n4GqbJP4lY Spain taxing people winning money in Barca AND backdating last 10 years?! Scary

— Patrick Leonard (@plenopads) August 18, 2018
Leonard is the founder of bitB Staking, one of the most prominent groups of poker players in the world, so you should sit up and take notice when he tells you that he's heard on Marvin's grapevine that players from France, Germany, Denmark and Italy are being hounded by the Spanish tax authorities seeking recompense from the past decade of Spanish poker activity.
That's one view.
In response to Leonard's tweet, Knut Karnapp (whose Twitter byline shows he is a lawyer) stated that the PokerFirma article is 'inconclusive' and that there is a tax treaty in place between Germany and Spain to prevent double taxation.
"It comes down to each specific case," Karnapp typed. 
As far as I can tell, an agreement was reached to prevent double taxation between the two countries back in 1966, when England was winning the World Cup (sorry, I had to sneak that in there). Officials updated the law in 2011.
Without more detailed knowledge of the treaty, and Ensan's specific case, there could be a lot of smoke without any fire, or the whole agreement could be going up in flames.
Who knows?
And this is a problem, right? 
Providing Value For Your Customers
I have been living the vagabonding lifestyle for the past few months. A day doesn't fly by like an angry wren without me reading countless hotel reviews on the Internet.
Here's what I've learned.
One star reviews always lead to a human failing somewhere down the chain, and invariably it's the direct result of a customer not feeling seen or heard.
It doesn't matter how often they clean the room, how silky the toilet paper feels, or that you have a TV in your oversized bathtub.
You need human connection to solve your problems when they happen, or even before.
That's your 5-Star rating.
The live tournament organisers are operating in a competitive environment. 5-Star ratings are not easy to find with such a fickle customer. If you want them to feel valued consistently, then heed this advice.
The operators learn plenty from sending surveys to people, but the ear must stretch further than that. If you read through the comments attached to the article and subsequent distribution via twitter they scream concern and confusion.
The right thing to do right now is for live tournament operators to do the hard work for their customers and make it crystal clear what the tax laws are for the primary countries that form their core business.
It's time to use that fancy nationalities pie chart that Mad Harper created in a more constructive and helpful way.