Simon Lam is the newest member of the World Poker Tour Champions Club after topping a 583 entrant Main Event at the Gardens Casino in California to win the $565,055 first prize and a 2018 Mercedes-Benz SLC Roadster.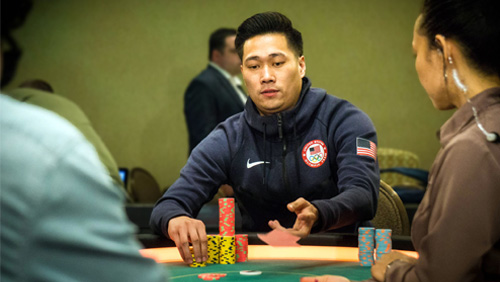 I like my sisters, Dawn, Sarah and Claire.
Do I like them enough to give them a 2018 Mercedes-Benz SLC Roadster? There's more chance of me becoming the 2019 Donkey Kong Champion.
Not everyone is as tight as me.
Take, Simon Lam, for example.
The founder of the Rollin Deep ice cream parlour out of Costa Mesa likes his sister so much that he gave that particular set of wheels to his sister moments after the World Poker Tour (WPT) handed him the keys in the wake of his Season XVII win at the Gardens Casino in California.
It was a sweet moment for Lam, and sickly one for his 583 competitors, as the man whose purpose in life is to satisfy the taste buds of millions, took down the $565,055 first prize to book the first significant win of his career.
After five days of intense action, the final table looked like a riot. Jake Schindler looked like a loaded gun, Craig Varnell continued the tremendous run of form that saw him win his first bracelet this summer, and Men Nguyen proved what a Master he is when he took the chip lead and promptly fell asleep at the table.
The Final Table Lineup
1. Simon Lam – 6,115,000
2. Jake Schindler – 4,045,000
3. Men Nguyen – 3,935,000
4. Jared Griener – 3,875,000
5. Saya Ono – 3,445,000
6. Craig Varnell – 1,955,000
Despite all the muskets and cannons, the final table got off to a slow start, with 75 hands passing into the ether before Varnell eliminated Jared Greiner after a flip saw AK beat JJ.
The WPT Champions Club Female Locker Room continues only to have one locker after Saya Ono exited in fifth. Ono moved all-in holding QJhh, and Nguyen dominated her with his AJcc. The Master found a flush on the turn to end Ono's hopes of becoming the second female to win a WPT Main Event.
Four-handed play was as tough as swallowing toothpicks until Schindler finally got the better of Varnell in a blind brawl that saw Varnell move to the community cards ahead with AJs v QTo only for Schindler to flop a ten to send the PLO bracelet winner to the rail.
Three Handed Chip Counts
1. Men Nguyen 9.9m
2. Jake Schindler 7.5m
3. Simon Lam 5.975m
All three players took turns to caress the chip lead until Lam entered heads-up with a big lead courtesy of the axe that came down on the head of Nguyen.
Lam opened the button holding AKo, Nguyen moved all-in from the big blind holding T7dd, and Lam made the call. The flop of KhJs8h gave both players a little something with Lam strengthening his lead with top pair, and Nguyen flopping a gutshot that never arrived.
Heads-Up Chip Counts
1. Simon Lam – 18.7m
2. Jake Schindler – 4.675m
Schindler made up some ground, but he never had enough oomph to make as much as a dent in Lam's wall of chips.
Then this happened:
Lam opened to 600,000, and Schindler made the call. The flop was Js7c2c, Lam bet 500,000, and Schindler check-raised to 1,500,000. Lam took his time before moving all-in, and Schindler made the call.
Lam: Jc9s
Schindler: Jd8d
Lam was ahead with the minimal size kicker you could find. But it was good enough. The 3h and 2d kept the board low enough to avoid any chopped pot scenarios, and Lam was the newest addition to the WPT Champions Club. 
Final Table Results
1. Simon Lam – $565,055 + a 2018 Mercedes-Benz SLC Roadster
2. Jake Schindler – $366,740
3. Men Nguyen – $270,430
4. Craig Varnell – $201,615
5. Saya Ono – $151,995
6. Jared Griener – $115,885