In this World Series of Poker round-up, you learn how Thomas Cannuli won the largest online bracelet buy-in event ever, and how Andreas Korn took down the $5k No-Limit Hold'em event.

An appearance in the World Series of Poker (WSOP) November Nine can send you out of the stalls like a thoroughbred racehorse, or into hibernation like a big old grizzly bear with a belly fun of honey.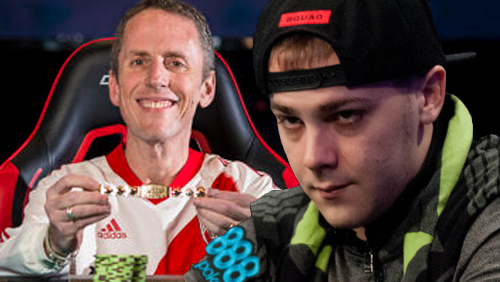 For Thomas Cannuli, it was the latter, but he has woken from his slumber.
The 2015 sixth place finisher has taken down Event #61: $3,333 WSOP.com Online No-Limit Hold'em High Roller, after topping a field of 424 entrants (320 unique, 104 re-entries) to capture the $322,815 first prize.
It was the largest online buy-in bracelet event ever held, and Cannuli's prize was the largest since online poker in America went the same way as people following in Neil Armstrong's giant steps to the moon.
The event took 12-hours to complete, making it one of the fastest ways to win a bracelet. As you would expect, Cannuli needed the kind of luck that prevents a 1969 vintage vinyl from being scratched, with the critical hand coming when he eliminated Ryan "holdNfold" Jones in eighth place QQ>KK when he spiked a queen on the flop.
Cannuli, took the bracelet after his pocket tens beat the A3o of both Tara "BeatrixKiddo" Cain, and Adam "HLEDERERER" Owen, in a three-way all-in and call.
Final Table Results
Thomas "FLOATZ" Cannuli – $322,815
Tara "BeatrixKiddo" Cain – $201,408
Adam "HLEDERERER" Owen – $136,231
Daniel "Pepperprince" Zack – $97,232
Darren "LegionofBoom" Rabinowitz – $66,112
Blake "bk1048" Kelso – $47,547
Vincent "AllinVin138" Moscati – $34,859
Ryan "holdNfold" Jones – $26,178
Millard "Undisputed23" Hale – $20,168
Other notables that went deeper than mummy penguin feeding fish to baby penguin included William Reynolds (10th), Kevin Eyster (14th), and Jonas Lauck (16th).
Andres Korn Wins Event #56: $5,000 No-Limit Hold'em
"Andres Korn?"
Where have I heard that name before?
Ah yes, he was the man who won the World Poker Tour (WPT) National in Thailand, back in December. An event that didn't exactly create a ripple in the pokerverse, but his latest one has.
Korn became the second Argentine to win a WSOP bracelet (Ivan Luca, 2015) after dominating the final table of Event #56: $5,000 No-Limit Hold'em.
It's an event WSOP officials will have to take a long hard look at after the 623 entrant field dropped 39% on last year's 863, but Korn didn't care one iota. It was always the bracelet for him.
"I wasn't even looking at the pay jumps; I was just focused on the bracelet," Korn told PokerNews after his win.
The man from the land of Diego Maradona entered the final table as the chip leader and never once slipped down the leaderboard, coming into the final table against the WPT Champions Club member Peter Chen with a 2:1 chip lead.
The final hand gave Korn some work to do as his 98 squared off against the superior K9, but an 895 flop ensured Chen would not leave with his second major title, and that Korn would leave with his first.
A special shout out should also go to the Belgian Thomas Boivin who finished third after also finishing second in the $1,500 No-Limit Hold'em Shootout. 
Final Table Results
Andres Korn – $618,285
Pete Chen – $382,122
Thomas Boivin – $264,306
Marton Czuczor – $185,794
Mike Sowers – $132,767
Simon Lam – $96,472
Andy Spears – $71,300
Mark Zullo – $53,615
Sergio Cabrera – $41,031
Other players who dived deeper than a narwhal with its horn stuck in an anchor were the $3,333 Online bracelet final tablist Darren Rabinowitz (11th), the former Aussie Millions winner Ari Engel (13th), and the former November Niner Pierre Neuville (15th).
Comments