First, the poker world had to deal with the Phil Hellmuth vs. Daniel Negreanu spats. Those, for the most part, have died down but Kid Poker soon found himself embroiled in another feud, this time with Doug Polk. Polk has continuously trashed the world's second-winningest poker player in a bid to keep his name in the spotlight. Now, a new feud has creeped up between two other players and it's time to break out the popcorn and enjoy the show.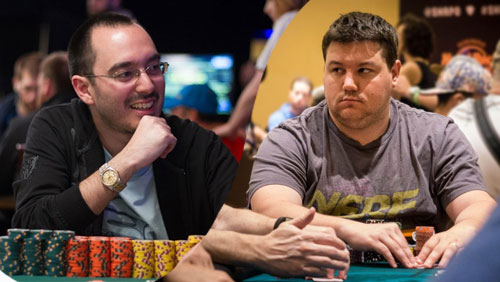 William Kassouf and Shaun Deeb recently found themselves digitally duking it out on Twitter, sharing jabs and insults. It started after Deeb, who had joined Joey Ingram for his poker podcast on YouTube, questioned Kassouf's character and accused him of hitting on his wife.
During the podcast, Ingram asked Deeb whether or not he had teamed up with Kassouf to coach Tony Miles, who would go on to take second place at the WSOP Main Event. Deeb said, "No, he was not coaching. He was attempting to be an attention-whore cheerleader."
When CardsChat asked Kassouf why Deeb made the comments, he replied, "Apparently, he's always been a Will Kassouf hater from my fun table antics, speech play, and general enjoyment of the game. It probably stems from the 2016 WSOP Main Event. He's part of Team JohnnyBax and it's no surprise Cliff Josephy doesn't like me."
The British player added, "Those individuals who can't take the speech play and banter at the table shouldn't be playing live poker. You've got to have thick skin if you're to survive in this game and snowflakes who cry about something talking and having fun at the table have no place in the live arena. They're better off staying at home in their underpants, clicking a mouse button and playing online because that's all they're good for."
The Twitter battle heated up after Ingram called out Kassouf for some of antics. He led in by saying, "Shaun doesn't like you/has issue with you and directed it as such. He didn't bring up your friends/family/anyone else. I'm sure your upset about it and think it's good for your business to keep tweeting/RT comments about her but it makes you look like the asshole ppl think you [are]."
Scott Seiver joined in, trying to play the mediator, telling Ingram, "[There's] no need to respond to this attention seeker. No one cared during the main event but during the 50k people tried to get his deepstack moved because of him. He's more than welcome to try to play any of 50 people I could name in any game of his choice. Just let him disappear."
The Twitter conversation degraded from there, with repeated name calling and junior high school antics (the same antics Kassouf shows at the felt). At least Kassouf acknowledges that he uses trash talk for his game; however, some argue that it's a veiled attempt to externalize the internal fear and stress he feels at the tables, not because he actually thinks it's going to make a difference.