After a seven-handed final table that had everything, Connor Drinan saw off some of the best poker players in history to seal a historic 5th Spring Championship of Online Poker (SCOOP) title and win $322,264.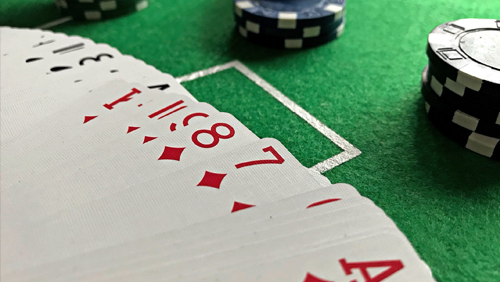 With $1,590,000 in the prize-pool due to the 159 entries, Linus Loeliger held the chip lead with just 54 players left, and with just 18 players reaching the money. Plenty of the players would miss out on a return on their investment, but the most painful cut of all is always on the bubble. That fate was suffered by Alex Difelice when he was busted by Gavin Cochrane in 19th place.
Loeliger was still top at that point, but that would change after Cochrane went on a tear following his elimination of Difelice on the bubble. He wasn't the only player proving themselves able to leapfrog his opponents, as by the time the final table was reached, Jen Kyllonen and Joao Vieira both held the chip lead. Connor Drinan timed his attack perfectly, however, as he busted one of the best players remaining in the field in 8th place as he dispatched Ben Tollerene to bring about the final seven.
Having led for so long in the event, Loeliger would have been disappointed to be the first player to hit the rail in 7th place. All-in and at risk against Vieira, Loeliger had a suited ace-king as part of his PLO hand, but couldn't overtake Vieira's flopped pair of tens, despite opening up straight and flush draw possibilities on the turn.
With six men left, it was anyone's game. Kyllonen raced up the ranks, piling up around 10.6 million chips, only a couple of million behind Drinan who held the lead. It would be the British hedge fund guru and high roller Talal Shakerchi who would bust in 6th place, his hand of ace-jack-8-5 with the first three cards all hearts unable to find any traction, eventually losing to Joao Vieira's flopped pair of sixes alone.
Vieira was battling into contention for the title himself and opened the action in the hand that would reduce the field to four. When Gavin Cochrane called and Jens Kyllonen squeezed, however, Vieira folded, but Cochrane made the call, and on a flop of ace-ten-queen with two clubs, raised all-in with an ace and a queen in his hand. Kyllonen, however, held pocket aces, and a turn of another ten gave him an uncatchable full house.
With four players remaining, it would be 'Kukenmuser' who departed. Short-stacked and holding two aces, a queen and a jack, they were all-in pre-flop. It was Connor Drinan who made the call with ace-queen-ten-eight, and on the flop of 6-10-5, Kukenmuser remained ahead. The eight on the turn, however, gave Drinan two-pair and a meaningless king on the river saw Kukemuser leave the party, albeit with $142,100 in winnings to celebrate with.
With three players remaining, it looked like a two-horse race for the title to some.
Jens Kyllonen – 19,940,722
Connor Drinan – 13,219,281
Joao Vieira – 6,589,997
If any of the three men though that winning from there would be easy, they were wrong, with four hours of play still to go. Vieira it was who eventually busted in 3rd place, but it wasn't for lack of trying across a two-hour period where each man led the chipcounts at multiple stages.
Vieira committed the last of his chips in a pot worth 11 million chips to Kyllonen, who took it from him. The board showed jack-7-8-6-queen, and while Vieira held ace-king-9-5, Kyllonen had ten-nine in his starting hand to make a higher straight. In a pot where both flush draws missed, it was terrible fortune, and put Kyllonen in the driving seat. Vieira had come so close to a second SCOOP title, and it looked like Kyllonen would win instead.
Heads-up in PLO is notorious, however, for being wide open, and Drinan fought his way back into the game time and time again over another two hours of fierce button-clicking combat. It took Drinan half an hour to grind his way into a chip lead, but that lead flipped both ways before the end of play.
Eventually, Kyllonen was whittled down to just 6.8 million and committed all of his chips after the flop of 4-2-jack, holding a jack along with a king, queen and two, giving him two pair.
Drinan made the call, holding ace-queen-ten-trey and while the four on the turn was no danger at all, the five on the river gave Drinan the wheel straight and crowned him SCOOP champion for a record-breaking fifth time.
As he celebrated his momentous achievement, Drinan took to Twitter, leading to congratulations from legends in the game such as Toby Lewis and Joey Ingram.
Not one for tweeting about poker tournament wins but feels somewhat mandatory after shipping scoop #5 of the series in the plo 10k main. Sorry @shaundeeb

— Connor Drinan (@ConnorDrinan) May 20, 2020
Whether he'll win yet more SCOOP titles in this record-breaking extended PokerStars online festival is uncertain. But if you can be sure of one thing, it's that no-one will want Connor Drinan popping up as their tablemate in a SCOOP event any time soon. The man looks in unbeatable form, racking up his fourth PLO title and record-breaking fifth title of the series.
Here are all the winners from an epic final day in the latest sell-out SCOOP event.
SCOOP Event #75 Final Table Results:
| | | | |
| --- | --- | --- | --- |
| Place | Player | Country | Prize |
| 1st | Connor Drinan | United States | $322,264 |
| 2nd | Jens Kyllonen | Finland | $245,286 |
| 3rd | Joao Vieira | Portugal | $186,695 |
| 4th | 'Kukenmuser' | United Kingdom | $142,100 |
| 5th | Gavin Cochrane | United Kingdom | $108,157 |
| 6th | Talal Shakerchi | United Kingdom | $82,322 |
| 7th | Linus Loeliger | Austria | $66,762 |