Another round-up from the World Series of Poker focusing on Ben Yu winning the $50,000 No-Limit High Roller for $1.6m, after beating Sean Winter in heads-up action.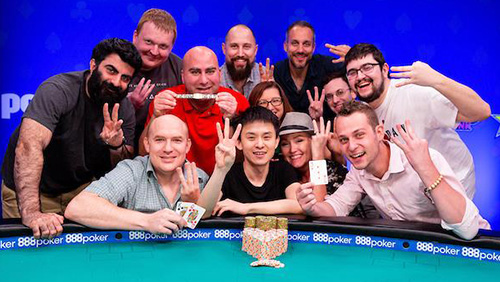 Ben Yu is fast becoming one of the most talented all-around poker players in the game after winning Event #77: $50,000 No-Limit Hold'em High Roller.  
The $1m buy-in One Drop hors-d'oeuvre attracting 128 entrants (97 unique and 31 re-entries) and created a $6.1m prize pool. After the suits had finished number crunching, it became apparent that two people would become millionaires.
Let's take a look at how the action went down.
Day 1: 31 Left, Two Millionaires to Crown 
At the end of Day 1, there were 31 players left.
Ten of them were previous bracelet winners, with 19 of the things between them.
Elio Fox (1,875,000), Nick Petrangelo (1,500,000), John Racener (1,150,000), Ryan Riess (965,000), Igor Kurganov (845,000), Scott Seiver (685,000), Daniel Negreanu (590,000), Byron Kaverman (455,000), Sam Soverel (255,000), and that man Yu (1,500,000).
The man leading the way was the Austrian, Matthias Eibinger, with 2,120,000 chips. The ARIA High Roller ace, Jake Schindler, was the only other player who bagged up more than two million.
Day 2: Yu Doesn't Freeze in the Midst of Winter 
Here are some of the crunch moments of the final day.
Stefan Schillhabel busted Byron Kaverman AJ>KQ, Manig Loeser eliminated Sam Soverel when the money went in on a flop of 973r with Loeser holding 65o, and Soverel with the rockets. A four on the turn straightened things out, and Soverel hit the rail. And Daniel Negreanu's VLOG viewers were left watching the end screen credits when Ognjen Sekularac sent the Canadian spinning out of the competition when the pair got it in with top pair versus bottom set.
Then Yu came into contention with a double elimination after his KK proved too much for Daniel Merrilees' AQ, and John Andress' 55. Loeser defeated the multiple bracelet winner Scott Seiver AJ>AT. And Petrangelo dumped Schillhabel over the rail after rivering a straight against top pair with all the money going in on the turn.
Yu's KQ bested Chris Hunichen's AT to send the online star crashing out of the contest in 16th place. Elio Fox busted the overnight chip leader, Matthias Eibinger AQ>Q7 on 872A. And Petrangelo took care of the Winamax Pro, Mustapha Kanit KQ>A7 when turning Broadway.
Yu took out the former Main Event Champion, Ryan Riess in 12th place AA>88, and then eliminated one of the hottest men in the world, Jason Koon – rivering a flush to beat Koon's trip sixes.  Yu didn't stop there after eliminating Benjamin Pollak J5>88 after flopping a jack to take us to a final table.
Final Table
1. Ben Yu – 7,700,000
2. Nick Petrangelo – 5,100,000
3. Manig Loeser – 3,650,000
4. Igor Kurganov – 3,400,000
5. Jake Schindler – 3,400,000
6. Elio Fox – 3,025,000
7. Sean Winter – 2,850,000
8. John Racener – 2,340,000
9. Isaac Haxton – 1,200,000
Sean Winter doubled through Igor Kurganov before eliminating Elio Fox JJ>66. Isaac Haxton doubled through Manig Loeser and then used those chips to eradicate Jake Schindler's bloodline from the contest 34>A5 after the latter found himself shorter than a munchkin. And Haxton made it two in a row, eliminating John Racener A3>KJ.
Winter handed Loeser a death blow when his 33 won the five card race against AK, before sending Kurganov packing 66>AQ. And Yu created three-handed play after eliminating Haxton AQ>A7.
Petrangelo – 13,100,000
Yu – 12,100,000
Winter – 6,900,000
Winter struck first, doubling through Petrangelo A5>T7, and then he won multiple pots to take a commanding chip lead. Yu caught up when he doubled through Winter 99>A8, before taking the chip lead into heads-up after eliminating Petrangelo 44>AT.
Heads Up
Yu – 18,275,000
Winter – 13,725,000
Two hands.
Yu won the first.
Then this:
Winter limped from the small blind, Yu moved all-in, and Winter called. Yu showed KQ, and Winter was ahead with A9 but at risk for his tournament life. The flop of J73r changed nothing, but the Kh on the turn did. Yu had taken the lead and became the champion after the 6d floated down the river.
It's been an incredible summer for Yu, who has shown that he's a talented player no matter what the game, stake or field size. All told, Yu has finished ITM, 15 times this summer, including four final tables, and now his third bracelet.
Yu finished third in the $10,000 Seven Card Stud Championship for $99,540. He then finished runner-up to Shaun Deeb in the $25,000 Pot-Limit Omaha High Roller for $866,924. Then he finished fourth in the $1,000 No-Limit Hold'em Double Stack event for $63,327.
That's close to $2.8m.
Not a bad trip.
Yu's victory sees him overtake John Hennigan as the most tangible threat to Shaun Deeb's claim on the WSOP Player of the Year (POY) throne after Deeb won his second bracelet of the summer over the weekend.
Here are the WSOP POY points:
Shaun Deeb – 4,274.21
Ben Yu – 3,746.04
Final Table Results
1. Ben Yu – $1,650,773
2. Sean Winter – $1,020,253
3. Nick Petrangelo – $720,103
4. Isaac Haxton – $518,882
5. Igor Kurganov – $381,874
6. Manig Loeser – $287,174
7. John Racener – $220,777
8. Jake Schindler – $173,604
20 players earned enough money to start piecing together a luxury yacht including Elio Fox (9th), Ben Pollak (10th) and Jason Koon (11th).