A run through the highlights of Day 5 of the World Series of Poker Main Event after a storm brings the action to an early halt with Michael Dyer leading the final 109 players.
Las Vegas is under siege.
40 mph winds.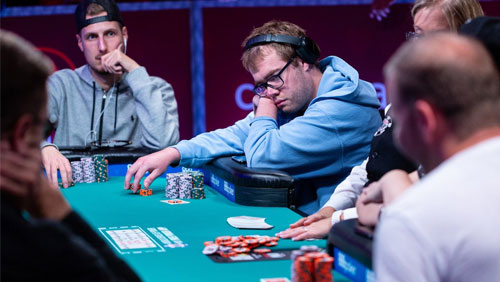 0.31" of rain.
The Poker Gods are skull-fucking the World Series of Poker (WSOP).
I blame Phil Hellmuth.
Let's all blame Phil Hellmuth.
Day 5 of the poker tournament guaranteed to give you a severe case of sciatica, came to a premature close after a storm shook the Rio so hard the lights went out.
There was no backup plan.
No candles.
No matches.
Game over.
41,000 people have no power in Sin City. While it may bother the whores and the bores, the 109 players who safely navigated their way through the storm inside the Rio, and the Maelstrom outside, won't be worried about power.
Sleep.
Rest.
Then back to battle.
The Battle 
Kelly Minkin made it crystal clear that she would be the only woman advancing to the thicker end of this wedge, sending Mina Greco packing after flopping trip nines with 97cc versus the AQs of Greco.
Tom McDonald, who makes more money playing live cash games in Macau than I make in ten lifetimes, found the lovely spot of being all-in holding the rockets against two players each fondling a pair of ladies.
Bracelet winners Barbara Enright and Tom Cannuli pulled their umbrellas from the stand and headed outside. ARIA High Roller genius, Jake Schindler, followed them.
Magic the Gathering hero, Eric Froehlich eliminated Joshua Jackson AK v JT – with the latter missing all of his draws on a board wetter than the Strip.
Seth Foster eliminated the former November Niner Bruno Politano AT>JJ when an ace appeared on the flop. Politano joined 888Poker after that fantastic run in 2014, and two people who joined the same outfit much later than he also hit the rail, when Pierre Gentil ousted Chris Moorman T9s>ATs on a flop of T93r, and Randall Lack eliminated Arsenii Karmatckii QQ>AK.
Ben Yu knocked out the dangerous Ludovic Geilich KK>AK, and we also lost the five-time bracelet winner, Daniel Aalaei. The awesome Austrian Artur Koren bust Jake Schwartz AQ>99, when an ace appeared on the flop.
Kelly Minkin eliminated Dong Kim QQ>TT to take the chip lead, soaring over 5 million. Bracelet winners Chris Bjorin and Daniel Ospina were left wondering what might have been, as were Anatoly Filatov and Govert Metaal.
We lost the Day 1C Chip Leader, Samuel Touil, and the three-time World Poker Tour (WPT) Champion, Chino Rheem, would not be repeating his seventh-place finish in 2008 after Bryce McVay sent him spinning AQ>99 after a queen planted her sceptre on the flop.
The former World Series of Poker Asia-Pacific (WSOP-APAC) Main Event winner, Scott Davies, eliminated his fellow bracelet winner, Ted Lawson, AQ>J9s on an ace high flop with Lawson chasing the flush draw.
Ognjen Sekularac eliminated Adam Levy A7s>AQo with the money going in on the turn. Roothless had the lead, only for Sekularac to spike the third spade on the river, which he used to bury his American opponent.
Bracelet winners Kyle Julius and Richard Gryko bowed out, as did Adam Geyer, Roland Israelashvilli and the 2009 Main Event final tablist, James Akenhead.
Brian Hutter took the chip lead from Minkin, and Randall Lack (AKo) moved into contention with the double knock out of Gregory Perry (KJs) and Pierre Gentil (AJs).
Peter Nguyen eliminated the WPT Champions Club member, Rocco Palumbo, in a trash versus trash hand face slapper. Gold bracelet winners, David Miscikowski, Ben Yu and Paul Volpe, headed for an early shower, and Ivan Luca eliminated the mighty Russian Ivan Demidov AA>QQ.
The brilliant Belgian, Bart Lybaert, took the chip lead, and a man who lives not far from that part of the world, Bas De Laat, sent Antonio Esfandiari to the rail, after the Dutchman flopped a set of fours, with the Magician flopping top pair. The money went in on the turn with Esfandiari drawing dead.
Nirath Rean eliminated Day 4 front-runner, Brian Altman, AK>AT. The number of bracelet winners got one lighter when Paulo Goncalves ejected Scott Davies TT>99, and Michael Dyer took the chip lead before the lights went out, eliminating the legendary Cliff Josephy KK>AKs.
Here are the leaders.
Top Ten Chip Counts
1. Michael Dyer – 12,180,000
2. Brian Yoon – 8.395,000
3. Jeff Trudeau – 8,305,000
4. Hari Bercovici – 7,650,000
5. Bart Lybaert – 7,530,000
6. Paulo Goncalves – 6,940,000
7. Peter Campo – 6,935,000
8. Konstantin Beylin – 6,930,000
9. Alexander Gross – 6,755,000
11 bracelet winners remain, with 16 between them.
Here they are.
Bracelet Chip Stacks
1. Brian Yoon – 8,395,000
2. Barry Hutter – 5,695,000
3. Eric Froehlich – 5,365,000
4. Mike Cordell – 4,920,000
5. Ivan Luca – 4,580,000
6. Joe Cada – 2,965,000
7. Shaun Deeb – 2,610,000
8. Rifat Palevic – 2,610,000
9. Yueqi Zhu – 2,210,000
10. James Obst – 1,730,000
11. Jack Duong – 1,520,000
My Top Five Picks
James Akenhead busted, but I still have four horses in the race.
1. Benjamin Pollak – 5,715,000
2. Shannon Shorr – 2,915,000
4. Shaun Deeb – 2,610,000
4. James Obst – 1,730,000
Day 6 returns at 11 a.m. Tuesday, July 10.
Candles at the ready.