Just a few days ago, poker's winningest player, Phil Hellmuth proved why he's known to the world as The Poker Brat. Hellmuth was awarded the nom de guerre early in his career for his frequent outbursts and temper tantrums and hasn't disappointed fans since. He has, once again, lived up to his nickname, this time during the WSOP Main Event with fans and players looking for a penalty that never came.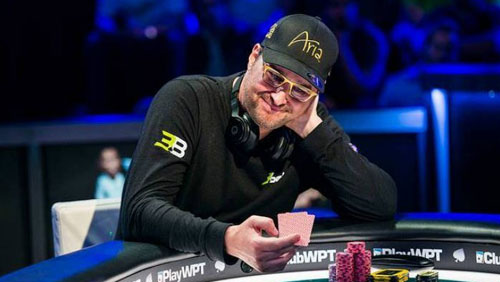 In the hand in question, Hellmuth was up against Alex Kuzmin, who raised from the middle position to 3,200. The Poker Brat called, as did James Campbell. After a flop of 4-3-10, Camby checked and Kuzmin bet 3,000. Hellmuth raised to 6,000 and Camby shoved all in with his stack of 26,200 chips. That was all it took for Hellmuth to lose it.
Hellmuth launched into a verbal assault, saying, "This mother f***ing guy … f***cking got away with murder all day against me. How in the f*** does this happen?"
Shaun Deeb, who was providing commentary for the game, was the first to call out Hellmuth for his behavior. He said, "This is so wrong by Phil. This is where Phil deserves penalties," said Shaun Deeb, who was commentating the final table. "You cannot talk in a multi-way pot and give away your weakness with an opponent still to act. It's so wrong he gets away with stuff like this. If I'm sitting with a king-high flush draw I know that Phil is not continuing if I call. That totally affects this action and totally hurts his opponent's equity."
Deeb wasn't the only one—Jared Hamby said, "The floor was there and did nothing. A lot of the anger is due to that. If Phil was at least given a penalty, it would be easier to tolerate how things went down. Mistakes happen in the moment but need to be properly dealt with."
Justin Bonomo, who took down the WSOP NLHE Heads-Up Championship this year, chimed in, as well, saying that the WSOP should have issued a penalty. He stated on Twitter, "He didn't like Camby and gave away the weakness of his hand to allow Kuzmin to call his all-in lighter than normal. This behavior is FAR beyond what is acceptable and he's gotten enough warnings. This plays into Hellmuth's strategy in an unfair pattern we've seen for years He doesn't like aggressive players after him (especially shortstacks who can move in on him) This isn't an isolated accident He gains a huge edge by influencing action to bust the 3rd player."
It was a good move on the part of Camby, who was holding the A-9 of diamonds. With the 4-3 of diamonds showing on the flop, it was a calculated risk with a lot of outs to take the hand. Hellmuth's pocket sevens were absent of diamonds and he ultimately folded to avoid a major upset, leaving only Camby and Kuzmin to play out the hand. However, Camby came up short, as no more diamonds turned up and he was sent to the rail. Kuzmin, on the other hand, turned out to be the big winner—he called holding K-2 of diamonds, and a two on the turn gave him a pair for the win.
Hellmuth has tried to make amends for his outburst. In a Twitter post from Sunday, he apologized to Camby and said, "@JCamby33 [Camby's Twitter name] I lost some sleep over my outburst. I believe you lose the hand anyway, but maybe I am wrong. You handled yourself well, and played well. As a gesture of goodwill, and because I respect policeman and firefighters: I'm going to buy you into 2019 $10,000 @WSOP Main Event."