Brian Altman has won the World Poker Tour Lucky Hearts Poker Open, at the Seminole Hard Rock Hotel and Casino in Hollywood, after defeating Mark Dube in heads-up action.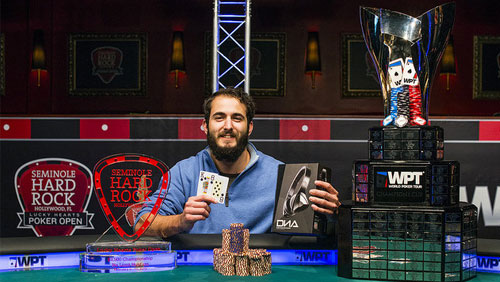 It's not often that the outcome of a poker tournament goes the way it's supposed to it. Fortunately, for Brian Altman it did.
When the penultimate day of the World Poker Tour (WPT) Lucky Hearts Poker Open was over, two professional poker players, in their mid twenties, had over 70% of the chips. The smart money was on Brian Altman or Mark Dube joining the WPT Champions Club.
With Altman and Dube maintaining such a stranglehold, it became a tale of who would take up the four rear spots. The booby prize went to Jon Graham. He got it in with KQo, and Kelly Minkin picked him apart with pocket queens.
Sanjay Gehi would exit stage left soon thereafter. It was Dube holding the scalpers knife. A classic race that saw the pocket tens of Gehi run out of steam against the AJo of Dube when an ace hit the flop.
Fourth place was reserved for Greg Rosen. The 48-year old father of twins was always going to be a winner no matter what the results on this final table. Winning your seat through a $100 satellite and turning it into $220,189 will do that to a man. He made his move on a flop of [Qs] [8s] [6d] holding bottom pair, and Altman took him to the cleaners with top pair.
The heads-up encounter everyone expected to see was confirmed after Altman curbed the enthusiasm of Minkin. It was a tough beat for the lawyer who once finished second to Joe Kuether in the 2013 Arizona State Championships. She got it in good with nines versus fours only for Altman to hit his two-outer on the flop.
Altman and Dube would smash it up for two hours before they met their cooler. The flop was showing [As] [5s] [3s], Dube held two red aces for top set, Altman held [Ks] [8s] for the stone cold nuts, and the board failed to double up, ushering Dube into the bridesmaid spot.
Altman defeated 1,027 players on his way to the largest sore of his career.
All eyes now turn to Canada and the WPT Fallsview Poker Classic.
WPT Lucky Hearts Poker Open Final Table Results
1st. Brian Altman – $723,008
2nd. Mark Dube – $434,462
3rd. Kelly Minkin – $262,912
4th. Greg Rosen – $220,189
5th. Sanjay Gehi – $180,752
6th. Jon Graham – $146,245