The Romanian Adrian Costin Constantin wins the 888Live Barcelona Main Event after qualifying via a satellite, as Luigi Andrea Shehadeh puts up a stirling defence finishing seventh.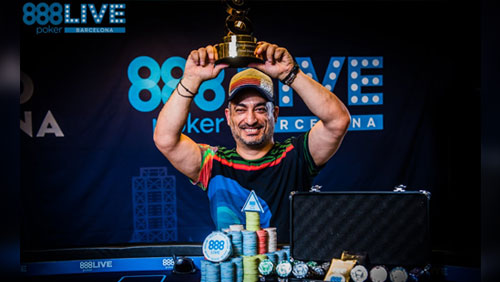 Here's the thing with final tables. Sometimes, they can be like cans of pop, all shook up by some naughty teenager with a crane in his pants, and other times they feel like a tin of corned beef without a tin opener.
I imagine this one felt like the latter.n
I write 'imagine' because despite being in the Casino Barcelona, sitting a few feet away from the action, I didn't feel it. There was no bite. I felt no desire to take a seat and start munching.
Last year was a different kettle of flying fish. Loudmouth, Will Kassouf made a deep run. The former World Series of Poker (WSOP) star finished 11th. The enigmatic Cate Hall held everyone's gaze finishing fourth, and Patrik Antonius was the walking eye candy – waiting impatiently for a private jet to fly him to an attic in a strange country where he would win millions of dollars playing cash games.
But this year?
It's difficult to create a compelling narrative without the right cast, and this one left the best ones back on the couch.
There were two interesting points of note.
For the longest time, Sergiu Sirbu carried all of our hopes. The Romanian won his seat playing in a freeroll on 888Poker, but the headline of Man Freerolls His Way to Title went down the toilet with the yellow pissy water when he busted out in eighth.
That left the only remaining storyline, and it was a good one, that of Luigi Andrea Shehadeh doing his utmost to win back-to-back titles. This time last year, it was the Italian who ended Hall's fantastic run when his KT danced under the lights of Broadway, as the American's A6 tap danced over to the rail.
And he was by far the most accomplished player at the final table.
Sandwiched in between last year's €110,000 score were two victories in the Casino Campione beating enormous fields of 2,477 and 3,003 entrants to win €100,000 and €300,000 respectively.
But the man whose name I cannot spell for the life of me walked out of the casino a beaten man after his dream of winning consecutive events ended in seventh place.
No more stories.
But it can't end there.
You need a winner.
His name was Adrian Costin Constantin. The Romanian satellite qualifier went up against Joel Isla, heads-up, facing a 3:1 chip deficit. The pair crunched some numbers.
"No deal."
And so began two hours of poker that would have forced you to put your head in a vat of honey before walking into a bear cave, if you wasn't either of the two final table combatants, and you had to stay until the bitter end because you were commentating, preparing to interview the winner, or merely emptying the bins.
Constantin, who was the more experienced of the two, overcame the deficit and began building a 4:1 chip lead. At this point, maybe tiredness created the madness, or Jason Glatzer made a mistake, but the pair agreed upon a deal that saw them both pocket €114,025 with the headline to play for.
A quarter of an hour later and Isla moved all-in holding J6s, and Constantin called holding A9. No Jack, no six, no straight, no flush, no happy Spanish mush.
Constantin was the winner.
It was time for Sarah Herring to do her job and man was it worth the wait.
"Did you think this was going to be your title?" She asked before falling asleep standing up.
"No."
Sweet.
The victory was Constantin's third title after beating 74 entrants in a €100 buy-in event in 2014 in the Casino Barcelona, and exterminating 122 entrants in a £100 buy-in event at the PokerStars' United Kingdom & Ireland Poker Tour (UKIPT) in 2015. The Romanian's most significant score until this point in his life was a 4/768 finish in a €1,100 buy-in event at the European Poker Tour (EPT) Barcelona back in 2016, earning €49,800.
Here are the final table results.
Final Table Results
1. Adrian Costin Constantin – €114,025*
2. Joel Isla – €114,025*
3. Manuel Navarro Perez – €55,800
4. Cosmin Rusu – €38,200
5. Corrado Martinelli – €27,200
6. Oscar Casado Diaz – €22,150
7. Luigi Andrea Shehadeh – €16,350
8. Sergiu Sirbu – €12,250
9. Tomasz Aleksandr Chimel – €9,350
*Indicates a heads-up deal.
Comments