South Koreans don't have a lot of domestic options when they want to gamble. The only casino available to them is the Kangwon Land casino resort, located about 93 miles south of Seoul. Despite being the only option, the casino didn't fare too well during the first quarter of 2018, and its revenue dropped by 30.3% from the same period last year.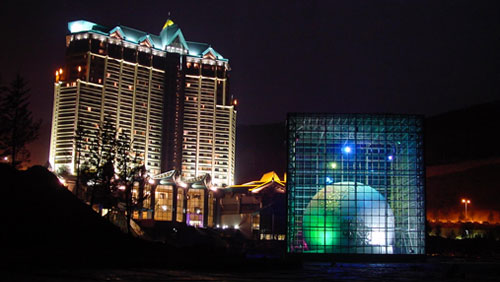 In a filing to the Korea Exchange, casino operator Kangwon Land Inc. reported net income of around $71.1 million for Q1 2018. Year-on-year sales were down 7.5%, with operating income dropping 22.4% to $118 million. It's a trend that has continued throughout the past 12 months.
Brokerage firm JP Morgan Securities (Asia Pacific) Ltd. announced last Friday that the continued decline represents "challenging business environments" for the casino. Kangwon Land has been the target of political pressure to temper its revenue growth. The fact that the casino exists at all is a constant source of controversy.
JP Morgan analysts Sean Zhuang and DS Kim said in their announcement, "Worse yet, the planned opening of a waterpark in July will most likely add cost pressures to second half and 2019 earnings." According to the pair, Kangwon Land's gross gaming revenue dropped by 8% year-on-year to $341 million. "VIP was particularly weak (-22 percent year-on-year to its four-year-lows), which Kangwon Land attributes to poor underlying demand," the analysts said.
The casino has had to deal with a couple of setbacks recently that have stunted its growth. The South Korean government ordered it to fire 226 employees after an investigation revealed that they may have unfairly been hired. It was also forced to reduce the number of mass tables at the beginning of the year, dropping the total from 180 to 160. Additionally, the government obligated the casino to drop its operating hours at the beginning of April. The casino had been open from 10 a.m. to 6 a.m. the following day, but it is now only open from 10 a.m. to 4 a.m.
Kangwon Land is located at the base of a golf and ski resort in Sapuk-eup, Jeongseongun. It is the largest of the 18 casinos in the country with almost 294,000 square feet of gaming space. The casino accounts for almost half of the total gambling revenue in South Korea.
Comments