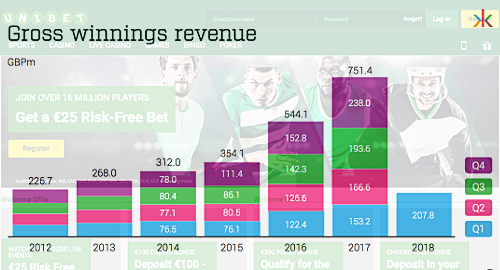 Online gambling operator Kindred Group reported revenue up one-third in the first quarter of 2018 thanks to record-high active customer numbers.
On Wednesday, the Kindred Group revealed that its revenue over the three months ending March 31 was up 36% year-on-year to £207.8m, while underlying earnings shot up 57.4% to £47.5m and after-tax profits spiked 83.4% to £33.6m.
Kindred CEO Henrik Tjärnström partially credited the gains to last year's addition of UK-facing online casino operator 32Red, which contributed £17.9m in revenue and £2.6m in earnings to the Group's Q1 scorecard. The acquisition also propelled Kindred's active customer ranks to a record 1.38m in Q1, up from 1.23m in the same period last year.
All of Kindred's product verticals were in the black in Q1, led by the casino & games category's revenue of £103.2m, up from just £77.4m in Q1 2017. Sports betting revenue rose 42.6% to £94.7m, while poker improved nearly one-quarter to £4.6m. Only the 'other' category played spoiler, falling by £400k to £5.3m.
The sports betting gains came despite only a modest rise (3%) in betting handle. The overall sports betting margin after free bets was 8.2%, down from the gaudy 10.5% in Q417 but significantly higher than Q117's 6%. Kindred achieved a near equal split in pre-game and live betting in Q1, although the pre-game margin was 12.1% versus 8.1% for live betting.
Tjärnström noted that the second quarter had started off on a tear, with average daily revenue up 52% through April 22. Absent the impact of the 32Red bolt-on and exchange rate fluctuations, the numbers were still up an impressive 40% over the same period last year.
Kindred still relies on Nordic markets for 36% of its revenue, making this week's regulatory update in Norway of particular interest. Kindred said Wednesday that people needed to realize that some parliamentarians had agreed on a "wish list" of changes and the overall government "surely needs to investigate further the potential consequences before any changes of regulation can be proposed."
On Wednesday's results presentation, Tjärnström noted that Kindred brands had already been affected by Norway's ongoing efforts to block payments to/from unauthorized gambling sites. However, he downplayed the impact of the proposed changes, saying he didn't want to be flippant but "it's almost business as usual."
Kindred also says it's "well prepared" for the upcoming liberalization of Sweden's online gambling market, and expects to be first in line when the license application process gets underway on August 1.
Finally, Tjärnström noted that Kindred was "investigating if and how we can launch any of our brands in the USA," although he failed to specify whether that investigation would focus on the intrastate online markets in New Jersey and Pennsylvania, or potential sports betting opportunities should the US Supreme Court strike down the federal PASPA sports betting prohibition.