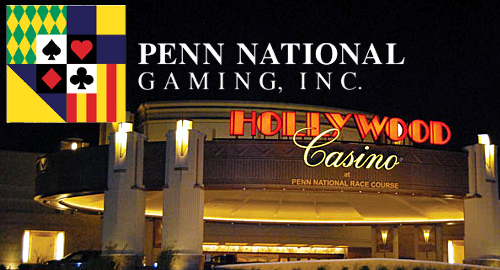 Regional casino operator Penn National Gaming (PNG) saw its shares fall nearly 3% on Thursday over concerns that Pennsylvania's gambling expansion plans will hurt its local racino operations.
On Thursday, PNG released its Q3 earnings report, which showed revenue in the three months ending September 30 rising 5.3% year-on-year to $806.2m, as the company posted growth across its three main geographic areas of operation. Operating income improved 4.7% to $106.5m while adjusted earnings edged up 2.6% to $127.6m.
PNG's mainstay Northeast market's eight properties posted the largest revenue ($401.8m) but the smallest percentage gain (+1.5%). The Midwest region improved nearly $232m while the South/West division gained 18.5% to $160.1m, largely due to PNG's acquisition of two Mississippi casinos this March.
PNG CEO Timothy Wilmott credited his company's "continued ramp of our newer properties and business segments" for ensuring "another period of strong spend per visit" across its three operating segments.
However, despite the rosy report, investors ditched the stock on Thursday after Pennsylvania legislators approved a sweeping expansion of the state's gambling market. These expansion plans include the authorization of 10 new 'satellite' casinos, an option that PNG had lobbied hard to ensure didn't happen.
Earlier this month, PNG distributed a position paper outlining its concerns regarding the expected negative impact of the new satellite casinos on its Hollywood Casino at Penn National Race Course.
PNG argued that the state's other 11 brick-and-mortar casino operators were better protected from potential cannibalization by the proposed 25-mile buffer zone around each existing casino. Many of these zones overlap, in some cases dramatically extending the geographical buffer, while the PNG property's isolation means it's the only venue that actually faces satellite competition only 25 miles away, and most Hollywood Casino customers come from outside this 25-mile buffer.
PNG's senior VP for public affairs and government relations Eric Schippers said his company was "beyond disappointed by the legislature's ill-conceived and hasty gaming expansion plan." Schippers said PNG's lawyers would be "studying the entirely of the 970-page bill" and "weighing all of our legal options."
Comments