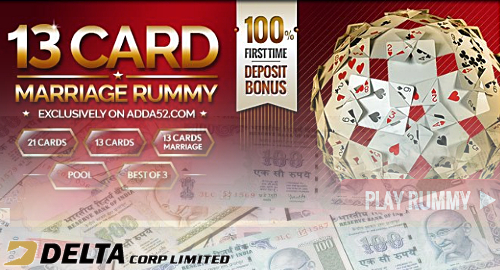 Indian casino operator Delta Corp saw its revenue rise to "the next level" in its fiscal second-quarter thanks to contributions from its new online gaming operations.
This week, Delta Corp reported that its mainstay land-based casino gaming revenue hit Rs 1.45b (US $22.3m) in the three months ending September 30, a gain of 17.2% over the same period last year. Hospitality and other revenue improved 19.4% to Rs 187.6m ($2.9m).
In July, Delta formally absorbed the online gaming operations of Gauss Networks Pvt Ltd, which operates Adda52.com, India's largest online poker site. Delta said its new online division contributed revenue of Rs 240.8m ($3.7m) in fiscal Q2.
Delta issued a statement saying the company's foray into online gaming is helping to "strengthen our leadership position in the gaming and hospitality industry." Online gaming has "outstanding potential" and has exposed the company to "a diverse clientele across new demographics."
Delta's chief financial officer Hardik Dhebar added that the new online division not only "provides the growth potential but also gives stability to the cash flows." Delta's after-tax profits for the quarter rose more than one-third to Rs 430m ($6.1m.).
Delta operates three floating casinos and one land-based hotel-casino in the state of Goa, as well as the new Casino Deltin Denzong in Sikkim. Delta also operates an integrated resort in Daman, which is still waiting on formal approval to launch its gaming operations.
Goa's state government has ordered its six authorized floating casinos to transfer their gaming operations to shore by 2020. Meanwhile, the government is still searching for a new waterway other than the Mandovi river that the shipboard casinos can call home until their onshore move.
Following the release of Delta's Q2 report, chairman Jaydev Mody proclaimed that Goa's new gaming policy "is expected to bring positive changes which will be positive for the industry at large and will offer the required impetus to Delta."
The annual Diwali festival occurs this week but Mody told the Times of India that Delta doesn't expect any surge of business, despite the holiday's traditional association with gambling, given that such activities tend to take place at home with family and friends.
Comments