Three short stories of comings and goings in the poker world including Phil Ivey hinting at a possible return to live tournaments, Doyle Brunson calling time on his 'extended break' from Twitter, and Dani Stern leaving the game behind.
I don't know Phil Ivey anymore than I know Donald Trump, but my sources tell me he's sound as a pound. There's a humility about the man, who isn't likely to forget the game that made him such a sledgehammer performer in the world of poker. And so it makes it all the stranger that Ivey was missing in action throughout his Poker Hall of Fame induction year.
Ivey missed every major tournament in 2017, including the entire World Series of Poker (WSOP), only surfacing occasionally to play a few hands of poker in Bobby's Room.
Without any official word from Camp Ivey the assumption was his legal battles with Genting and the Borgata were the primary reasons for his low profile. Ivey knows had he grabbed a microphone in the Western world he would have faced a barrage of questions about his Baccarat game.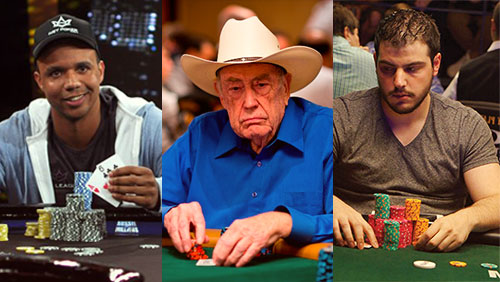 But he's alive and well.
Last month, sources at SoMuchPoker revealed that Ivey was in Beijing, China helping to promote a poker app called Zhi Zou. And the SoMuchPoker team made sure they were on the ground to ask the great man a few questions, and there's some great news.
Ivey, who resides in Hong Kong, told the SoMuchPoker reporter that he is in the region because it's quicker to get to a game in Macau or the Philippines. Ivey wouldn't comment on the stakes he plays. He also confirmed that he doesn't play in China.
"It's illegal," said Ivey.
When asked about his lack of love for tournaments, Ivey intimated at a  return to the tournament circuit in the future, saying he only stepped away due to "personal and family problems."
"I'm still interested in live tournaments. I love tournaments. I didn't want to be a part of the media at the moment." Said Ivey.
And who can blame him with idiots like me poking and prodding into his personal life.
Doyle Brunson Returns to Twitter 
Phil Ivey isn't the only poker legend making a return to something he loves.
On Oct 7, Doyle Brunson declared his intention to take an 'extended break' from Twitter after feeling beaten down during his defence of the American gun laws in the wake of the Las Vegas massacre.
It seems the word 'extended' means six days.
Brunson's fingers couldn't wait any longer, and after telling his 432,000 followers that he loves pancakes he quickly jumped into a heated debate with Nolan Dalla over the Iran Nuclear Deal.
You can't stop the man.
Ansky Quits Poker 
From two old school legends of the game shifting back into gear, to a modern online star applying the handbrake.
Dani Stern is a mid-high stakes online cash game grinder who was a part of the quartet that filmed the reality TV show "2 Months 2 Million' alongside Emil Patel, Brian Roberts, and Jay Rosenkrantz, where the foursome locked themselves in a Las Vegas grinding house to turn the headline into a reality (they failed, earning $676k).
Before the weekend arrived, Stern posted his retirement on Twitter.
Farewell poker world. It has been a wild and crazy ride, and I will miss it. On to new adventures ✌️

— Dani Stern (@TheRealAnsky) October 14, 2017
If you want more details then tough luck, Ansky is keeping his cards close to his chest, but he won't be finding employment on a building site.
Well I'm not really cut out for manual labor 😀

— Dani Stern (@TheRealAnsky) October 14, 2017
Stern has taken a bit of a beating in the online cash games in recent years, so that must have played a part in his decision. Stern plays as Supernova9 on PokerStars where he has lost $1.4m to date, and ANSKY451 on Full Tilt where he has lost $300,000. He has lost $770,000 year-to-date, with HSDB reporting that most of those losses have come competing against the Swedish PLO pro BERRI SWEET. Stern has won over $3.6m playing live tournaments.
Most recently Stern was the figurehead behind the PokerStars Player Strikes in the wake of the decision by PokerStars to renege on their Supernova agreements.
We wish him all the best in his new choice of career.