The World Poker Tour releases their 2018 Season XVI schedule, and there's no place for the WPT Bay 101 Shooting Stars event.

I nearly left it.
It was struggling to breathe, squeezed into the kerb, trying to find the only piece of shade underneath a sun desperate to end its life. It must have been hit by a car when in full flight.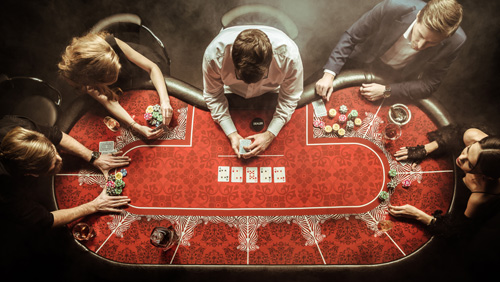 I picked the little bird up. It felt warm and plush, the pace of its little heartbeat reminding me of my daughter. It was a brilliant blue. I had never seen a bird like it.
I put it in the garage underneath a net and called the animal welfare people. Ten minutes after I made the call the bird was dead. Its eye was like a jet black stone. I wanted to close it but couldn't. The warmth was gone. It felt like a sheet of paper. It was dead, like the World Poker Tour (WPT) Bay 101 Shooting Stars event. Only this little thing was never coming back.
The WPT has released it's 2018 Main Event schedule.
There are seven events in total.
We knew about the January visit to Berlin for the inaugural WPT European Championship, but what we didn't realise was the Shooting Stars event would end up like my pet bird.
Here is the official word from the WPT on the omission of the event.
"It has been mutually agreed upon that Bay 101 will not return to the Season XVI World Poker Tour schedule. Bay 101 will always have a special place in the WPT history books, and we would encourage players to continue to visit our friends at the new Bay 101 Casino."
I know, not much to go on right?
There's a lot of talk about the event being a 'fan favourite', but not all grinders share those sentiments. The poker room only holds 21 tables, meaning ten-handed action and long days; not what the modern professional wants to face. That's the word on poker's grapevine.
The Shooting Stars event has been a mainstay on the Main Event calendar since Season II. The event ditched its $10k buy-in back in Season XI, preferring a $7.5k model, and the numbers of entrants increased significantly.  Ironically, last season's 806 entrants was a record as was the $1.3m payout for the eventual winner Sam Panzica.
Rumours that the event was cancelled to keep the German's from winning more titles after Stefan Schillhabel took down the Season XIV event are believed to be false.
Here is the history of the Shooting Stars event:
Season II – Phil Gordon ($360,000) – $5k buy-in 243 entrants
Season III – Danny Nguen ($1,025,000) – $10k buy-in – 438 entrants
Season IV – Nam Le ($1,198,300) – $10k buy-in – 518 entrants
Season V – Ted Forrest ($1,100,000) – $10k buy-in – 450 entrants
Season VI – Brandon Cantu ($1,000,000) – $10k buy-in – 376 entrants
Season VII – Steve Brecher ($1,025,500) – $10k buy-in – 391 entrants
Season VIII – McLean Karr ($878,500) – $10k buy-in – 333 entrants
Season IX – Alan Sternberg ($1,039,000) – $10k buy-in – 415 entrants
Season X – Moon Kim ($960,900) – $10k buy-in – 364 entrants
Season XI – Wei Kai Chang ($1,138,350) – $7.5k buy-in – 643 entrants
Season XII – James Carroll ($1,256,55) – $7.5k – 718 entrants
Season XIII – Taylor Paur ($1,214,200) – $7.5k – 708 entrants
Season XIV – Stefan Schillhabel ($1,298,000) – $7.5k – 753 entrants
Season XV – Sam Panzica – ($1,373,000) – $7.5k – 806 entrants
Will it Return to Bay 101?
"We have seen events return to the WPT schedule in the past, evidenced most recently by the return of the Lucky Hearts Poker Open to the Season XVI schedule," said a WPT source. "We have a group of very exciting events on the Season XVI schedule, including the six newly announced stops, and we look forward to players joining us throughout the U.S. and Canada."

I liked it.
It was a novelty event that was particular to the WPT. If they can't find a way to make it happen at Bay 101, then they may need to shift it to a different venue capable of handling the bigger crowd.
There were no other surprises, although it's worth mentioning that the WPT continue to use the Action Clock, beginning one full table off the money.
Here is the 2018 schedule in full.
1. WPT European Championship (TV), Berlin, Germany, Spielbank Berlin, Jan 10-15 (€3,300 buy-in).
2. WPT Lucky Hearts Poker Open, Hollywood, Florida, Seminole Hard Rock Hotel & Casino, Jan 19-24 ($3,500 buy-in)
3. WPT Borgata Winter Poker Open, Atlantic City, New Jersey, Borgata Hotel Casino & Spa, Jan 28 – Feb 2 ($3,500 buy-in)
4. WPT Fallsview Poker Classic, Ontario Canada, Fallsview Casino Resort, Feb 10-12 (C$5,000 buy-in).
5. WPT LA Poker Classic (TV), Commerce, California, Commerce Casino, Feb 24 – Mar 1 ($10,000 buy-in).
6. WPT Rolling Thunder, Lincoln, California, Thunder Valley Casino Resort, Mar 2-6 ($3,500 buy-in).
7. WPT Seminole Hard Rock Poker Showdown (TV), Hollywood, Florida, Seminole Hard Rock Hotel & Casino, Apr 13-18 ($3,500)