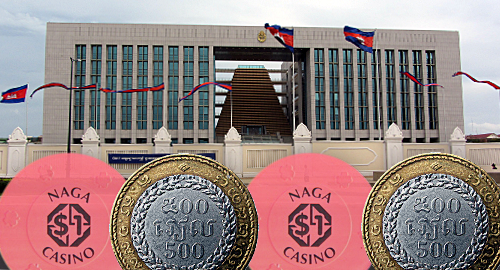 Cambodia's long-awaited new gambling law is reportedly ready to be submitted to the government's cabinet for approval later this month.
On Tuesday, the Khmer Times quoted Ros Phearun, deputy director-general of Cambodia's Finance Ministry's financial industry department, saying the gambling draft law – which has been promised for over three years now – had been finalized by joint technical teams at both the Finance and Interior ministries, paving the way for cabinet to receive the finished results within the month.
Phearun suggested that cabinet officials weren't likely to raise any serious objections to the law's text, given that it was prepared following "many inter-ministerial and stakeholders' meetings" and therefore incorporates "lots of inputs from all concerned ministries and parties."
As previously suggested last October, the draft law is believed to call for a gambling revenue tax of between 4% and 5%, roughly comparable to the rate imposed on Singapore's two integrated resorts. This would be a better fate than the 5% to 7% rate originally anticipated by Tim McNally, chairman of Cambodia's largest casino operator NagaCorp.
Cambodia's tax take from its licensed casino operators jumped 38% in 2016, in part due to NagaCorp being hit with a substantial back tax bill. The government said it had issued 77 casino licenses by the end of last year, of which 65 were operational.
The draft law also calls for the establishment of a Gaming Management Committee to ensure compliance with anti-money laundering and internal financial controls. The government hopes that increased clarity of its casino operations will help attract investment from international gaming operators, which will in turn help boost tourism.
The Khmer Times report offered no indication of the government's plans for its domestic online gambling industry. Last December, Phearun was quoted saying the government had vague plans to centralize locally licensed online operations but precious little has been stated on this subject since.
Australian-listed operator Donaco International, which runs the StarVegas casino in Poipet, recently announced that it plans to commence its online gambling operations this month (or possibly October).
Comments