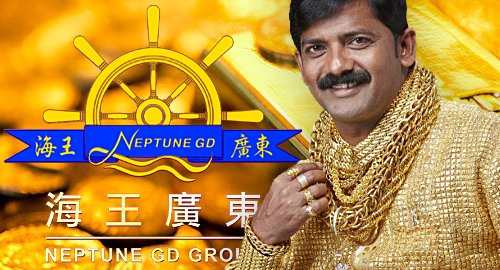 Macau casino junket operator Neptune Group is betting that a corporate rebrand will help reverse the group's sagging fortunes.
On Friday, the Neptune Group Ltd informed the Hong Kong Stock Exchange that it planned to change the English language name of the company to Rich Goldman Holdings Ltd. The company also proposed changing its Chinese name from "海王國際集團有限公司" to "金粵控股有限公司".
The rebranding proposal is subject to approval by Neptune shareholders at an extraordinary general meeting, the date of which has yet to be determined.
The company says the rebrand is warranted due to its view that the Neptune name "does not reflect the diversity of businesses conducted by the Group." The statement notes that while Neptune is still receiving profit streams from casino junket operations, it now "focuses more on its money lending business and management and operation of hotel business."
Neptune was once a titan of Macau's junket scene, but its junket partners keep getting turfed from local casino VIP rooms, and Neptune recently announced that its junket operations had shrunk to a single VIP room at SJM Holdings' Grand Lisboa casino encompassing only eight gaming tables, down from 55 at the end of 2016.
The upheaval spoiled the financial turnaround narrative that Neptune had hoped to establish after turning in a modest profit in its fiscal H1 ending December 31, 2016. Neptune announced its plan to enter Hong Kong's money lending business in late December "as a supplement to lost VIP volumes."
It remains to be seen whether the shift in business focus will prove to be Neptune's savior, but we can't believe the new 'Rich Goldman' identity managed to emerge beyond the brainstorming stage. Honestly, it's a bit on the nose. I mean, was 'Wealthy Platinum Dude' already taken? Does Russell Oliver really have worldwide rights to his 'Cashman' alter ego? Or are Neptune's board members just really susceptible to the wishes of Phoebe Buffay?
Comments