3: Barrels of true value including the World Poker Tour preparing to pay out their one-billionth dollar during the WPT Legends of Poker; New Jersey Senator Ray Lesniak setting a submission date for a new poker bill, and Molly's Game trailer doing the rounds.
The World Poker Tour (WPT) has always been the daddy of televised poker, and in the next few weeks they will hand out their one-billionth prize dollar during the Season XVI WPT Legends of Poker.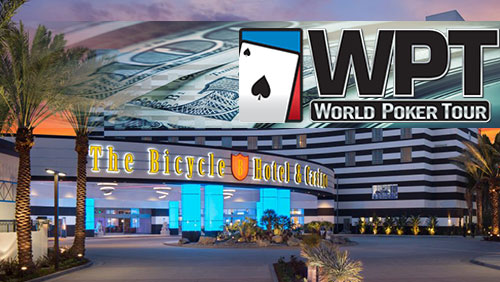 It's an astonishing feat for the live tournament operator underlining the illustrious history of the event that has been the gateway for so many enthusiastic poker players keen to live the dream and win some life changing cash along the way.
And what a great event to capture this incredible moment.
The Legends of Poker played out at The Bicycle Hotel & Casino, Bell Gardens, California, has been a fixture in the WPT calendar from the very outset, meaning the one-billionth dollar will land in someone's hand during the 16th consecutive Legends of Poker.
In that time span, the WPT has provided $998 million in prize money and welcomed 247 people into the WPT Champions Club including the following 15 individuals who found the door competing in the Legends of Poker.
Season 1 – Chris Karagulleyan (134 entrants) – $258,000
Season 2 – Mel Judah (309 entrants) – $579,375
Season 3 – Doyle Brunson (667 entrants) – $1,198,260
Season 4 – Alex Kahaner (839 entrants) – $1,150,900
Season 5 – Joe Pelton (466 entrants) – $1,602,670*
Season 6 – Dan Harrington (485 entrants) – $1,599,865
Season 7 – John Phan (373 entrants) – $1,116,428
Season 8 – Prahlad Friedman (279 entrants) – $1,009,000
Season 9 – Andy Frankenberger (462 entrants) – $750,000**
Season 10 – Will Failla (757 entrants) – $758,085***
Season 11 – Josh Hale (622 entrants) – $500,000
Season 12 – Jordan Cristos (716 entrants) – $613,355
Season 13 – Harry Arutyunyan (593 entrants) – $576,369
Season 14 – Mike Shariati (786 entrants) – $675,942
Season 15 – Pat Lyons (687 entrants) – $615,346
*The buy-in increased from $5k to $10k
**The buy-in dropped from $10k to $5k
***The buy-in dropped from $5k to $3.7k
The event is currently underway, ending August 31, with the televised Main Event taking place Aug 25-31.
The WPT will reward the player who wins the billion prize dollar with a seat into the Legends of Poker Main Event plus a couple of night's stay in the hotel.
New Jersey Bill to Legalise Shared International Liquidity Ready to Make an Appearance
With the WPT primarily focused on the live tournament niche, Adam Pliska's family were one of the least hurt companies that earned their coin through poker in the post-Black Friday era. Online poker operators, took a hiding, however, and one US Senator, in particular, is keen to rectify that wrong.
New Jersey Senator, Raymond Lesniak, has been locked in his study putting pen to paper on a proposed bill to turn New Jersey into the Mecca of Online Gambling.
Lesniak proposes to remove language requiring servers of online poker operators to be on the ground in Atlantic City, therefore, opening up the potential for international, and other state operators, to share liquidity with New Jersey online poker players.
This week, Lesniak told OnlinePokerReport of his intention to introduce his new legislation to the Senate on Aug 25, his final opportunity to make a difference in the online gambling space before he dons his pipe and slippers at the end of the year.
Don't get your hopes up though.
There has been a lot of noise, and zero significant action, in the American online poker legislative front since New Jersey joined Nevada and Delaware in the online poker pioneering club back in 2013.
Molly's Game Trailer Released
Finally, the trailer for Molly's Game is doing the rounds, and I have to say, it looks worthy of a watch.
I'll reserve final judgment until movie reviewers dig their nails into the flesh of the picture, but at first glance, Aaron Sorkin's directorial debut looks like a smash. And why wouldn't it with the likes of Idris Elba, Michael Cera, Kevin Costner, and the smoking hot Jessica Chastain in the cast.
Molly's Game is the big screen adaptation of Molly Bloom's memoir: Molly's Game: From Hollywood's Elite to Wall Street's Billionaire Boys Club, My High-Stakes Adventure in the World of Underground Poker.
Check it out.