When the leaders of U.S. professional sports leagues convened in New York to discuss the business of sports, NFL Commissioner Roger Goodell had been an active, insightful participant. Until the topic of gambling came up.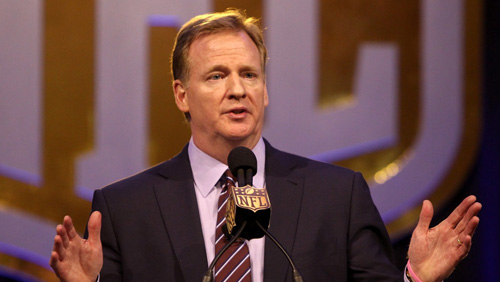 On Tuesday night, Goodell joined NBA Commissioner Adam Silver, NHL Commissioner Gary Bettman and MLB Commissioner Rob Manfred at The Paley Center for Media-organized public forum, titled "GameChangers: Creating the Future of Sports."
The one-hour forum touched on different topics, including gambling, particularly in light of the U.S. Supreme Court's decision to consider New Jersey's request for legal sports betting. Silver, a proponent of legalizing sports gambling in the country, is optimistic that there will be changes in the not-so-distant future.
"My sense is that the law will change in the next few years in the United States," the NBA commissioner said. "And I think it's not as much at the end of the day are leagues being for or against sports betting? It's more a function of being realists. It's a multi-hundred-billion-dollar illegal industry in United States. And I think ultimately as the owners of the intellectual property, we're going to embrace it and also make sure our integrity is protected at the same time."
Bettman, meanwhile, is more concerned on what it fundamentally means to be a sport that embraces gambling.
"I don't worry about fixing games I don't worry about anything other than from our standpoint, what does it do to the way young people consume sports? Do they look at it as a vehicle for healthy competition with role models or do they look at it as a device to make or lose money on a bet," the NHL commissioner said. "What will it do to the environment in the stadium or in the arena if everybody sitting there just worrying about their bets? Does it turn us into something other than what we've been, more like either a race track or a jai alai fronton? Not that those are bad, it's just different than what we are. And those are the things that we have to focus on."
For Manfred, gambling can enhance fan engagement as it keeps fans watching the game.
"It seems to me that there is a difference between somebody betting on whether their next pitch is going to be a ball or a strike, which is very hard for anybody to affect or control as opposed to the outcome of the game, which, you know, is different," he said.
And throughout all of this, Goodell had five words to say.
"I would agree on that," the NFL commissioner said, in response to Manfred's statement.