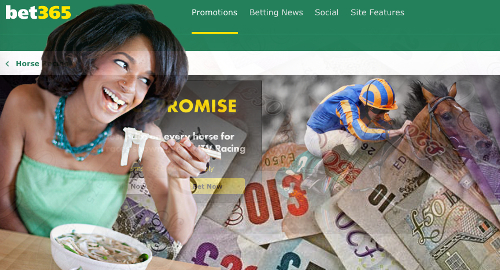 A mysteriously flush student from Belfast is suing UK-licensed online bookmaker Bet365 for refusing to pay out nearly £1m in race betting winnings.
On Sunday, the Telegraph reported on the hard luck tale of one Megan McCann, a 19-year-old Northern Ireland student who somehow found enough money left over after picking up that week's Ramen noodles to wager nearly £25k on the ponies last June. McCann placed a total of 960 £13 accumulator wagers across four separate races on June 22, 2016, resulting in winnings worth a hefty £985k.
Bet365 originally congratulated McCann on her betting bonanza but then suspended and ultimately closed her account, while declining to transmit McCann's winnings based on the bookie's belief that she'd violated the account's terms and conditions by allowing a third party to fund her betting activity.
Bet365 went as far as to refuse to return McCann's original betting stake based on the company's suspicion that McCann is "guilty of criminal offences including fraud by false representation, cheating or attempted cheating."
McCann has hired lawyer Andrew Montague to plead her case. Montague has battled the bookies under similar circumstances, including successfully repping famed horse bettor Barney Curley in his battle to force UK bookmaker Betfred to honor an £823k race betting coup.
McCann is asking the High Court in Belfast to award her £1,009,960 in damages for Bet365's alleged breach of contract. Montague claims that McCann couldn't have agreed to any third-party betting prohibition because Bet365's T&Cs are "too lengthy, too complex and much too vague for the average customer to understand."
Bet365 has dug in its heels, saying its investigation has left the company "entirely satisfied" that it's in the right and expects this view to be upheld if the matter comes to trial.
The lawsuit comes at an opportune time for the plaintiff, given the UK Gambling Commission's increased focus on its betting licensees' treatment of their customers. Last month also saw the Competition and Markets Authority launch investigations of several UK bookmakers for "potential breaches of consumer law" allegedly intended to allow the bookies to avoid paying winners.
Comments