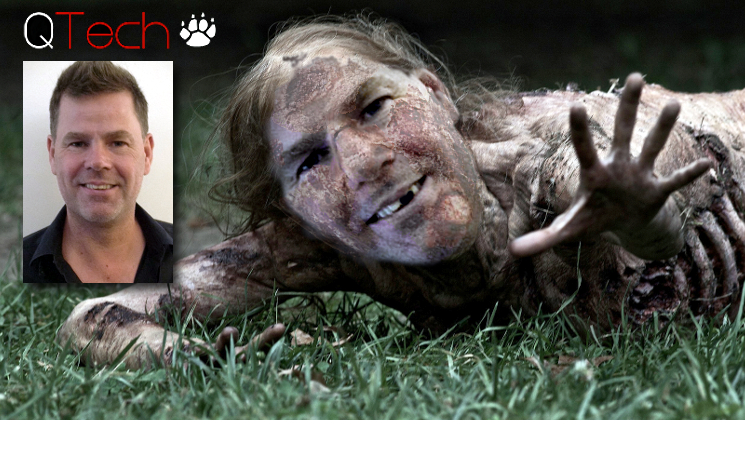 Like a zombie rising from the dead, infamous con artist Jan Robert Gustafsson appears intent on worming his way back into the online gambling industry.
In mid-May, I began hearing industry buzz around a new Manila-based online casino game distributor, QTech Games. The company is headed up by Jonas Alm, who also serves as CEO of software developer Mahjong Logic.
QTech's promotional material indicated that it was offering a large selection of games from familiar industry names such as NetEnt, QuickSpin, Habanero and others, at prices below the industry average.
But shortly after I began contacting some of these companies to inquire about their QTech connection, their names started vanishing from QTech's website. To understand why, it helps to know a little about Gustafsson's shady history in the online gambling world.
GUSTOGRAPHY
Gustafsson previously headed up the Manila-based Bodog Asia online gambling business until he was sacked for gross incompetence in 2013. A few months later, Gustafsson filed an affidavit with local police that falsely accused his former employer of violating the terms of its Philippine gambling license by accepting wagers from local residents.
Gustafsson's lies led to raids on the Bodog Asia offices that failed to find evidence to support Gustafsson's claims. The Philippine Court of Appeals ultimately ruled that the raids were illegal and ordered an investigation into the judge who approved the search warrants despite Gustafsson's utter lack of evidence.
Gustafsson's lies were part of a futile bid to distract from his own growing list of criminal charges in the Philippines. The charges stemmed from a failed conspiracy hatched by Gustafsson and several co-workers to embezzle large sums of money from their former employer, which they planned to use to launch their own online gambling operation.
THE INCREDIBLE SHRINKING CLIENT LIST
NetEnt was the first company I contacted regarding QTech Games, as their logo was featured prominently on QTech's website and on its G2E Asia company profile.
NetEnt didn't respond to my inquiry but the NetEnt logo disappeared from the QTech homepage a couple days later. A source close to NetEnt who spoke under promise of anonymity told me that the company had expressed concerns about Gustafsson's possible involvement with QTech.
The first company to reply to my emails was Canada's Amaya Gaming (soon to be known as The Stars Group). An Amaya spokesperson said, and I quote: "I literally have no idea what you're talking about. What makes you think we have a relationship with these guys?"

The spokesman insisted that no one at Amaya was aware of any current or past relationship with QTech, but I pointed out that Amaya's logo was the first company listed on the QTech website's list of partners. Mirroring the NetEnt situation, the Amaya logo also disappeared from the QTech homepage the following day.
THREATS AND DENIALS
My communications with QTech's partners (knowing or otherwise) prompted CEO Alm to send me a letter via his Swedish legal team, characterizing my inquiries as "intentionally malicious" behavior and threatening legal action against myself and CalvinAyre.com.
Alm also stated that Gustafsson was not "the owner" of QTech. When I followed up by asking if Gustafsson had any ownership stake in QTech or its parent company TechAsia Portal Corp., Alm replied that Gustafsson "is not, and will never be, a shareholder" in either QTech or TechAsia. Alm also said Gustafsson "is not, and never will be, an employee of or consultant to" either company.
Despite Alm's denial, our sources insist that Gustafsson is directly involved in QTech/TechAsia. And there's ample documented evidence of his indirect involvement, as TechAsia's certificate of incorporation lists the company's largest shareholder as Swedish national Kim Andreas Bertil Jonson, who just happens to be Gustafsson's stepson. Jonson also chairs TechAsia's board of directors.
What's more, Gustafsson's daughter-in-law Xin Zhao was originally listed as TechAsia's treasurer. Xin recently ceded that role to Dulce Amor C. Vidamo, the former treasurer of Top Trend Gaming, which shared an office with Gustafsson a few years back when he was trying to get a payment processing business off the ground.
WORD TO THE WISE
Make no bones about it: Gustafsson has worn out his welcome in the online gambling industry and CalvinAyre.com considers it a public service to track his dealings to ensure companies are aware with whom they're dealing.
This is even more important for Asian-facing operators now that Philippine regulators are increasing their oversight of the online gambling industry. More than ever, operators need to know that their business relationships aren't going to lead to a regulatory smackdown.
Remember: Gustafsson deliberately lied to the police in an attempt to (a) bring down a gaming industry competitor, and (b) save his own skin. While he was unsuccessful on both counts, there's no telling what future dirty tricks he might pull if he feels threatened or sees an advantage to exploit.
And Gustafsson will most definitely be feeling threatened, as his former employer is preparing to file fresh charges against Gustafsson and the other members of his criminal conspiracy as new information regarding their botched caper continues to come to light.