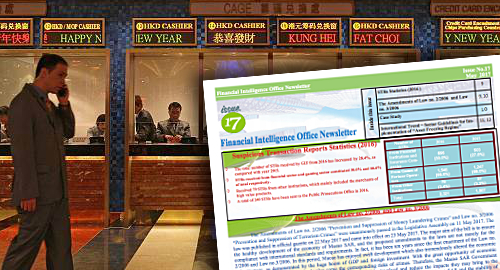 Macau's number of suspicious transaction reports (STR) rose by more than one-quarter last year, according to the local financial watchdog.
Macau's Financial Intelligence Office (GIF) recently issued a report showing that it received a total of 2,321 STRs last year, up 28.4% from 2015's total. Of the 2016 total, GIF sent 240 STRs to Macau's Public Prosecution Office for further investigation.
Macau's gaming sector accounted for 1,546 STRs in 2016, up 24% year-on-year. However, the gaming sector's share of the overall STR pie was down 2.4 points to a devilish 66.6%, as the number of STRs related to financial institutions and insurance companies reported even larger growth, rising over 38% year-on-year to 696.
The GIF also reported receiving 79 STRs from 'other institutions,' which it describes as being predominantly "merchants of high value products." This category's 2016 figure was also up over 38% year-on-year.
Last month, Macau legislators approved amendments to laws involving the prevention and suppression of money laundering and terrorism crimes. The amended laws require reporting entities to perform enhanced customer due diligence, ensure adequate monitoring systems, report suspicious transactions even if they aren't successfully concluded, while adding auction businesses to the list of reporting entities.
Last year, Macau revised its anti-money laundering rules but retained its MOP 500k (US $62k) threshold for reporting 'large' transactions. The US federal government, which sets its transaction reporting threshold at a mere $10k, has urged Macau's government to reduce its threshold to a more globally acceptable figure. (The Philippines' recently amended AML law pegs the threshold at the equivalent of $100k.)
Meanwhile, the first batch of UnionPay bank ATMs equipped with facial recognition technology are being rolled out in Macau. Last month, Macau announced that Chinese tourists using bank cards issued on the mainland would need to subject themselves to facial scans before local ATMs would dispense any cash.
Bloomberg reported that the new camera-equipped UnionPay ATMs require about six extra seconds of a customer's time to process the facial scans. Some analysts have suggested that the new policy won't prove much of an impediment to mainland Chinese, who have lesser expectations of privacy than most Western consumers.
Comments