Seventy-six entertainment venues have been shut down across China while 26 others had their operations suspended as the Beijing government intensified its crackdown on gambling, Chinese media outlets reported.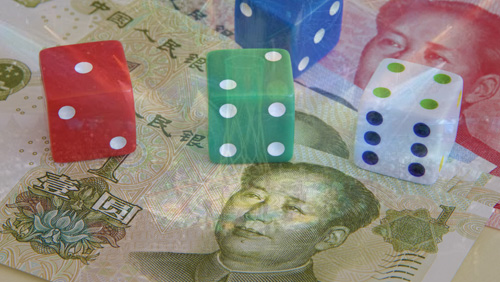 China, as we all know, likes to keep a tight leash on the fun stuff. Gambling is banned in the country, and the government is making good on its promise to "severely punish" both land-based and online gambling operators who target Chinese gamblers.
This year, law enforcement officers have investigated more than 38,000 entertainment venues nationwide, according to the China Youth Daily. Of this number, 355 cases have been busted.
The Ministry of Culture (MOC) was quoted by the news outlet saying that "any entertainment venues that allow their customers to gamble or contain video machines on which people can gamble will be shut down and have their business licenses revoked."
In Shanghai, authorities discovered 83 entertainment venues that fit MOC's description, while 11 venues in Hainan province were shuttered in April for allowing their customers to gamble.
Meanwhile, China has stepped up its crackdown on cross-border gambling. Beijing authorities have joined forces with their counterparts in the Philippines to hunt down transnational cyber gambling operations that had mushroomed in the Southeast Asian country.
The two countries had already flexed their law enforcement muscle by shuttering four illegal websites, rounding up 99 people, and freezing more than 1,000 bank accounts in April, according to China's Public Security Bureau.
The MPS hailed the April cross-border bust as the first such coordinated anti-gambling action involving the two countries' law enforcement agencies. The MPS said it would continue to strengthen international cooperation in targeting illegal gambling, be it online or land-based, to ensure greater "fugitive repatriation" of gambling operators who target bettors on the Chinese mainland.
The MPS has teamed with police in other jurisdictions, like in Taiwan, where it cooperated with Taiwanese officials in Taiwan in multiple actions against cross-border online gambling operations, although Beijing continues to insist that Taiwan is a 'renegade province' of China rather than a truly independent nation, so this doesn't actually qualify as international cooperation under Beijing's semantic rules.
Comments