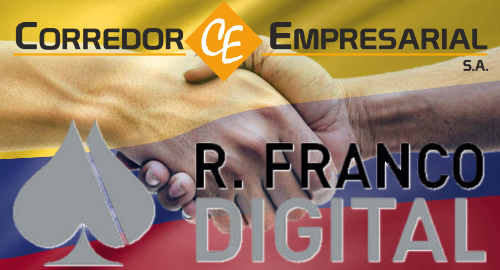 Spanish omni-channel gambling technology supplier R. Franco Digital plans to enter Colombia's newly regulated online gambling market via a deal with local operator Corredor Empresarial S.A.
On Thursday, R. Franco Digital announced it had agreed to supply its latest-generation IRIS omni-channel platform, along with a variety of online games and sports betting services, to Corredor Empresarial, which controls the nation's largest commercial network of luck and chance games.
The Bogota-based Corredor Empresarial operates 25k retail points of sale across country, comprising a total of 75k gaming terminals. In addition to astrology-based lotteries and amusement devices, the company was awarded a five-year exclusive pari-mutuel sports betting license in 2014. The company also inked a virtual sports deal with Inspired Gaming Group last year.
Corredor Empresarial generated total operating income of COP 227.1b (US $78.5m) in 2016, of which COP 223.9b came via its SUPER Astro zodiac lottery game. Sports betting accounted for most (COP 3.1b) of the rest.
R Franco's head of digital Alejandro Casanova said the deal with Corredor Empresarial reflected his company's strategy of partnering with "top tier allies who have the potential to become leading operators in every national market."
Corredor Empresarial general manager Diana Margarita Otálora Tylor logrolled right back, said R Franco would help her company "consolidate our position within the market, retain satisfied users and generate a stronger contribution to Colombia as a whole."
R Franco isn't the only Spanish operator making further inroads in Columbia. Last month, Codere announced that its Codere Columbia subsidiary, which already operates 54 gaming rooms via its CrowN Casinos, Fantasia Royal Light and Mundo Fortuna brands, planned to boost its presence to include 160 sports betting points of sale as well as an online betting site.
Colombia formally approved online gambling legislation last fall, and local gaming regulator Coljuegos began blocking the domains of unapproved operators this spring in order to clear a lane for locally licensed operators.
Comments