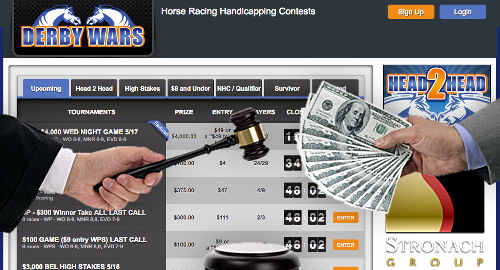 A US federal court has ruled that entry fees for horseracing fantasy contests are the equivalent of real-money wagers under the Interstate Horseracing Act (IHA) of 1978.
In December 2015, racetrack operator Stronach Group filed a federal lawsuit in the US District Court for the Central District of California against Horse Racing Labs, the parent of horseracing fantasy operator DerbyWars. Stronach accused DerbyWars of violating the IHA by offering wagers without a betting license and failing to provide Stronach tracks with a cut of its revenue.
In a ruling issued Monday, Judge S. James Otero determined that DerbyWars "is operating an off-track betting system" as defined under the IHA, as the site's fantasy tournaments involve races in states other than DerbyWars' Kentucky home. Accordingly, Otero ruled that the IHA can serve as a predicate for Stronach's claim for compensation under the California Business & Professions Code.
Like a host of other daily fantasy sports operators, DerbyWars had argued that its business model was permissible under the fantasy carveout in the 2006 Unlawful Internet Gambling Enforcement Act (UIGEA).
Otero rejected this argument, saying DerbyWars acted more like a poker site, with the fantasy entry fees serving as the 'pot'.' Otero cited a 1995 case involving California's Bicycle Club card room to support his conclusion.
Otero also likened DerbyWars to an exchange wagering site, as it offers head-to-head contests in which players place identically opposing wagers, while DerbyWars charges each player a fixed fee for matching them together.
The ruling is believed to be the first time a federal court has declared fantasy entry fees to be wagers. Its impact remains to be seen, but other DFS operators, whose steadfast mantra is that they're not betting sites, are likely on the phone with their lawyers.
NOW HOW MUCH WOULD YOU PAY?
The ruling means Stronach is free to pursue a claim for monetary damages against DerbyWars, and a trial is scheduled for next month. Stronach is also seeking an injunction against DerbyWars continuing to take action on Stronach races.
In 2016, perhaps sensing that the jig was up, DerbyWars reached a deal with the Hawthorne Racecourse in Illinois to share a portion of entry fees for tournaments that included Hawthorne races. DerbyWars CEO Mark Midland said at the time that working with racetracks was "important to growing contests."
On Monday, Midland issued a statement expressing disappointment with Otero's ruling, and said the company was mulling its options for appeal. Midland insisted that his site "is innovative and advances horseracing in a sport that needs more innovation."
Stronach exec Scott Daruty struck a semi-magnanimous note by essentially agreeing with Midland, telling Thoroughbred Daily News that fantasy racing is "a product that people seem to want and enjoy" and it was up to Stronach to figure out how to deliver that product "in a way that doesn't undercut the economics of the racing industry."
Comments