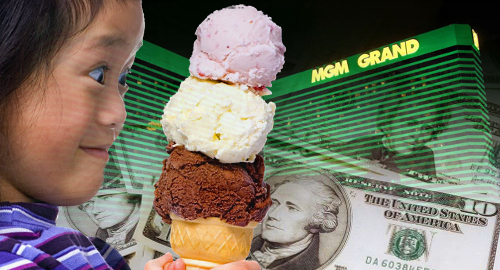 Casino operator MGM Resorts started 2017 off on the right foot as profits nearly tripled thanks to a new resort and a greater share in an old one.
Figures released Thursday show MGM's overall revenue rising 22% year-on-year to just over $2.7b in the three months ending March 31. Operating income jumped 57% to $497m and net income nearly tripled to $253m, leading CEO Jim Murren to celebrate the "strong start" to the year.
Revenue from MGM's wholly owned domestic resorts was up 29% to $2.1b, although, if you exclude contributions from the new National Harbor casino in Maryland ($173m) and the 50% share of Atlantic City's Borgata that MGM didn't own in Q1 2016 ($100m), the domestic revenue rise was a more modest 6%.
MGM's share of the CityCenter property in Las Vegas added $37.3m to Q1's revenue pie, a notable improvement from the $9m loss in the same period last year, which was impacted by $31m in writedowns.
In Macau, MGM China revenue was up 7% to $502m, while operating income rose 55% to $73m. The improvement was largely due to a significant rise in main floor table games' win rate. VIP turnover was down 16% but win rate improved 0.4 points to 3.4%.
Speaking on the analyst call, Murren praised National Harbor for capturing 30% of Maryland's casino market in its first full quarter of operations. Murren said the property's tables were reporting win per unit per day of over $5,800, while the property's poker tables are "running ahead of our expectations."
In Macau, MGM China boss Grant Bowie offered no further revisions to the timeline for the Q4 opening of the oft-delayed MGM Cotai property. But Bowie was encouraged by the recent uptick in Macau's VIP market, especially since the company has reportedly got some additional junket operators "in the pipeline."
Addressing the Chinese government's recent rumblings about keeping its citizens away from casinos in foreign countries, Bowie noted that this policy wouldn't affect Macau. Regardless, MGM's Vegas properties reportedly saw much stronger Chinese visitation during the Lunar New Year celebrations than in recent years, so onward and upward.
Murren did some advance work to dampen expectations for MGM's Q2, which he claimed would face "one of the toughest comparisons we have this year" due to some calendar quirks re the Easter holiday, and Q2 2016 featuring higher-than-normal table games hold. But Murren insisted that the company's full-year projections remain unchanged.
Comments