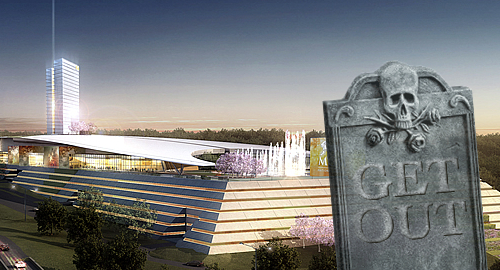 Maryland's casinos set another revenue record in March but the state's latest gaming venue found itself in legal trouble over a cemetery.
Figures released Wednesday by the Maryland Lottery and Gaming Agency show the state's six casinos earned gaming revenue of $141.2m in March, easily surpassing February's then-record of $128.7m. However, excluding MGM Resorts' National Harbor, which opened in December, the state's five other casinos reported combined revenue falling 8.1%.
National Harbor regained the casino revenue crown in March with $51.2m, its highest monthly total to date. Last month's champ, Cordish Co's Maryland Live, reported revenue falling 14.6% year-on-year to $46.6m.
Caesars Entertainment's Horseshoe Casino Baltimore was also in negative territory, falling 2.4% to just under $27m. Ditto for Hollywood Casino Perryville, which slipped 1.3% to $6.9m. Rocky Gap and Ocean Downs bucked the downward trend, rising 14.7% to $4.7m and 4.5% to $4.67m, respectively.
National Harbor may have won the month but it's losing a public relations battle over a nearby cemetery containing the bodies of around 70 members of a Colonial-era family. Some of the descendants of those buried have sued National Harbor's developer, Peterson Cos, over its plans to move the graves three miles away to a local church to allow further development of the land.
A year ago, Peterson offered assurances that it would maintain the cemetery "within a contemplative area surrounded by a walkway, landscaping and interpretative signage." This week, Peterson attorneys told the Washington Post that the company always had the right to relocate the graves, and suggested the family's lawsuit would fail.
National Harbor's situation isn't unique. In New York, the new del Lago Resort and Casino has a parking lot similarly situated near a small cemetery whose descendants refused to permit the developer to relocate the graves father away. Apparently less convinced of their legal rights and/or the likelihood of the dead relatives going full-on Poltergeist, the del Lago has promised to fence the area off and make it accessible to the descendants.
Comments