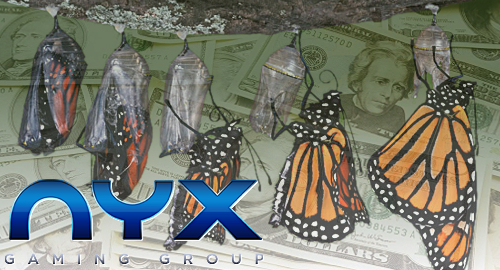 Online gambling technology provider NYX Gaming Group reported record results in 2016 after bolstering its operations via the acquisition of sports betting tech unit OpenBet.
On Tuesday, the Toronto-listed NYX reported revenue of $54.5m in the three months ending December 31, 2016, a 196.6% improvement over the same period last year, while earnings gained 185% to $12.9m.
NYX's numbers were goosed by the mid-2016 addition of OpenBet, but even discounting OpenBet's $30.4m contribution, Q4 revenue was up 31.2% year-on-year. Royalty and license revenue rose nearly two-thirds, thanks in part to 2015's acquisition of software outfits Chartwell Technology and Cryptologic from Canada's Amaya Gaming and the mid-2016 acquisition of UK gaming content provider Betdigital.
NYX launched 14 new customers on its Open Gaming System (OGS) in Q4, while signing 16 new customer agreements for its OGS and Open Platform System. As of December 31, NYX had 24 customers in the development pipeline waiting to launch, while inking 11 new deals over the first quarter of 2017. NYX's content division launched 27 new games in Q4.
For 2016 as a whole, revenue shot up 213% to $163.7m. Excluding the OpenBet, Chartwell and Cryptologic additions, revenue still rose a healthy 46.8% while adjusted earnings were up 305% to $42.7m.
Despite the triple-digit revenue rise, NYX reported a net loss of $57.9m in 2016. NYX blamed the shortfall on $19.7m in acquisition and restructuring costs, but also intangible asset impairments of $27.9m and goodwill impairments of $66.1m. These impairments were pinned on NYX's acquisitions of Chartwell, Cryptologic, Sportech NYX Gaming and Game360.
Choosing to focus on the positive, NYX CEO Matt Davey heralded 2016 as "a transformational year" for his company, whose acquisitions have left it "ideally positioned" to provide content to the regulated gaming market. Davey said NYX's new operating model "has been delivering an improved cost structure that, combined with our growth strategy, will result in increased operating leverage."
NYX said it expects Q1's revenue to come in between $57m and $61m, while earnings are expected to be between $15m and $17m.