Twitch sensation Jaime Staples has done it again after securing a multi-platform development deal for TV and digital properties with ePlay Digital Inc's. PokerVision Network.
My favourite Christmas present, ever, was a black and white portable TV. It was one of those jobbies with an ariel on the top that you had to twist to get a decent picture. I watched the Raiders of the Lost Ark the night after unwrapping it.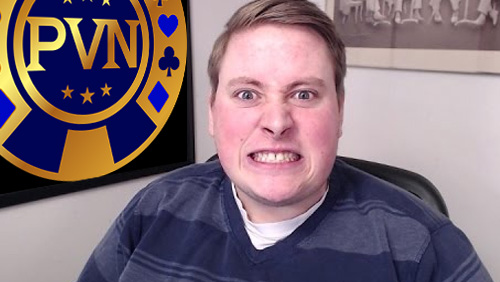 I used to think TV was the nuts. I have spent thousands on the things. But times change. Yesterday, I sold my TV on Gumtree for £20. My wife told me I was a mug and that I should have raised the price to £50. The buyer said it was for his autistic son.
I couldn't pull the trigger.
I wonder if he bluffed me?
I sold it because I never watch it. If I want to look at a show or a movie, then I use Kodi or go to the cinema down the road. I have a four-month-old baby and every Friday the local cinema has 'Screaming Fridays' where you can take your nipper to watch a movie.
I took her to watch La La Land.
It was great.
The credits started to roll, and all the women got their boobs out.
But not everyone believes as I do. I don't think my mother has turned off her TV in the past 40-years, Poker Central decided to create a 24/7 TV Channel before realising they had gotten it wrong, and before the year ended ePlay Digital Inc. announced plans to launch a new multi-digital TV channel called PokerVision Network (PVN).
During the press release, the gaffer said that they aimed to become The Next Generation of TV Networks.
Perhaps, Netflix hasn't made an appearance in Canada yet?
As part of the launch, the company decided to go on a crusade to find the right man, or woman, to make their TV channel next generation. Writing at the time, I said that they had to hire a Twitch personality with Kevin Martin and Jaime Staples the most obvious choices because they live in that neck of the woods.
It's with a smug sense of satisfaction that I tell you that I was right.
The new face of PVN is Jaime Staples. He fits the role perfectly. Staples has over 20k Twitter followers, 33.8k YouTube followers, and close to 80k Twitch followers.
His broad appeal brought PokerStars knocking on his tiny little screen back in 2015, and he has since become one of the top Twitch stars in this crazy poker world of ours.
Staples has signed a multi-platform deal for TV and digital properties, and PVN Director of Poker Programming believes his appeal on Twitch can become equally as impressive on the slightly bigger screen.
The new TV Channel certainly looks interesting, but it's not as appealing as sitting in a room full of boobies watching Ryan Gosling tap dancing his way into Emma Stone's heart.