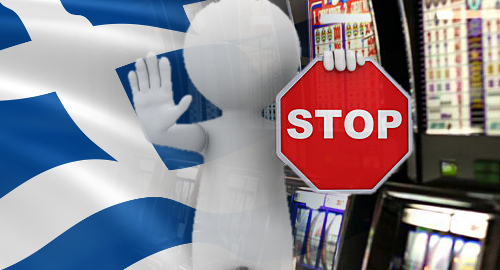 Greek authorities had their hands full policing unauthorized gambling operations in 2016, particularly those involving video lottery terminals (VLT).
According to figures released by the Hellenic Gaming Commission (EEEP), local police raided 480 establishments suspected of running unauthorized gambling products last year, resulting in 1,513 arrests and the seizure of €160k in cash, as well as hundreds of computers set up to offer VLT-style games.
There appears to have been some late effort to ensure government beancounters didn't find Greek cops to be slacking off, as 51 of these raids occurred in the final two weeks of 2016. Some illegal operators did their best to help out by reopening their businesses in the same locations, leading to one establishment being raided eight times in less than three months. (Helpful hint: stop offering VLTs at your fake donut shop.)
Like their Italian counterparts, Greek gamblers are particularly drawn to VLTs. But long-delayed plans to add an additional 35k VLTs to the Greek market have hit yet another snag after local casino operators filed more legal challenges based on a perceived threat to their own operations.
In October, EEEP declared that it was finally ready to move ahead with plans – that were originally approved way back in 2011 – to allow former Greek gaming monopoly OPAP to launch 16,500 through OPAP's retail network, while OPAP suppliers IGT, Inspired Gaming, Scientific Games and Synot Group would provide the remaining 18,500 machines.
But the Regency Casino Mont Parnes filed an appeal in late December asking Greece's Council of State to reject the VLT expansion based on the Regency's belief that it would violate the Treaty of the Functioning of the European Union (TFEU), Greek law and the local constitution.
The Regency's appeal claims that the plan to put 18,500 VLTs in residential areas with extended opening hours, 24-hour access during holidays and no limitations on playing time will create "gambling playgrounds" that violate a 2011 Greek gambling regulation aimed at protecting consumers.
More to the point, the Regency's owners also believe no one will want to visit its gaming floor if they can get their VLT fix down at the local corner store. Similar concerns were voiced in a separate appeal filed by Casino Loutraki in the country's highest administrative court.
It remains to be seen how much of a further delay the casinos' legal gambit will impose on the VLT rollout, but however long it lasts, Greek cops would be well advised to use the time wisely and get a head start on 2017's illegal gambling stats.
Comments