Casino operator Genting Singapore has narrowed its net loss by 38 percent in the second quarter as weaker VIP segment continues to drag its revenues down.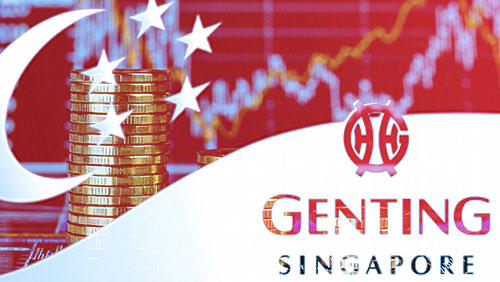 Genting Singapore, which operates Resorts World Sentosa casino resort in Singapore, reported in a filing to the Singapore Stock Exchange that it incurred S$10.5 million (US$7.8 million) net loss for the three months to June due to a substantial drop in gaming revenue from its integrated resort.
The 2016 second quarter net loss of Genting Singapore was narrower than the S$16.9 million (US$12.6 million) net loss recorded in the year-ago period.
"The Asian gaming market continues to face challenges. RWS has been able to maintain good earnings in the mass and premium mass market despite a weak environment. However, our premium market has been significantly impacted by a low win percentage," Genting Singapore said.
"The regional economic environment continues to be uncertain, and we continue to exercise caution with our VIP gaming business. Our regional premium mass and mass market remains steady," it added.
Analysts, however, noted that Genting's second quarter data continues to disappoint even after the casino operator has adjusted its VIP hold rate.
In terms of revenue, Genting continues its losing streak in the second quarter after its profit fell 17 percent to  S$480.89 million (US$358.56 million) from S$578.15 million (US$ 431.08 million) in April-June 2015 period.
Sentosa remains the income generating arm of Genting as it posted a S$480.4 million (US$358.2 million) turnover – of which S$331.9 million (US$247.47 million) was from its gaming business.
The integrated resort's gaming revenue for the second quarter was down 23 per cent from the S$428.3 million (US$319.35 million) garnered a year before, largely due to weaker business in the VIP gaming segment and a challenging Asian gaming market.
"Second quarter 2016 and first half 2016 results were below our expectations, even after adjusting for normalised VIP hold rate," said Samuel Yin Shao Yang of Maybank IB Research, in a note on Friday.
"VIP volume and mass market gross gaming revenue (GGR) were weak despite earlier indications to the contrary," he added.
On the positive, Japanese brokerage Nomura noted that there's a reduction in impairment losses in Genting Singapore's second quarter data.
Data showed that Genting's impairment loss on trade receivables for the quarter is down by 5 percent to S$53.6 million (US$39.96 million) compared from the prior-year period and 42 percent sequentially.
"Receivables balance is down to SGD393 million, which suggests narrower impairments ahead," Nomura analysts Tushar Mohata and Alpa Aggarwal pointed out in a note on Friday.
Comments