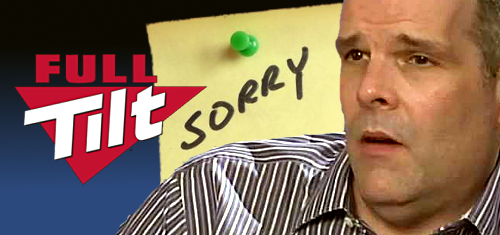 More than five years after the Black Friday indictments, Full Tilt Poker co-founder Howard Lederer has publicly apologized to players victimized by the site's inglorious implosion.
On Thursday, one day after Full Tilt owner Amaya Gaming merged the site with its main PokerStars brand, a statement by Lederer was posted to Daniel Negreanu's Full Contact Poker journal. Negreanu, who was among Lederer's most vociferous critics following FTP's demise, said his posting of the statement was "neither an endorsement or a condemnation."
FTP's bank accounts were frozen by the US Department of Justice on April 15, 2011, leading to the embarrassing disclosure that FTP principals had been treating customer deposits like their own personal piggy bank. Were it not for a fiscal bailout by then-PokerStars owners Isai and Mark Scheinberg, FTP's players could still be waiting for their money.
Lederer's statement says he takes "full responsibility for Full Tilt's failure to protect player deposits leading up to Black Friday." While claiming that he was "no longer overseeing day to day operations" after "stepping away" from FTP in 2008, Lederer admits that his "inattention in the two years leading up to Black Friday imperiled players' deposits."
In September 2012, Lederer sat down with PokerNews for a series of video interviews that came to be known as the Lederer Files. Reaction was universally negative, with Lederer coming off as a combination of Shaggy ("wasn't me"), post-Iraq Donald Rumsfeld ("stuff happens") and Bill Clinton challenging the legal definition of the word 'is'.
Lederer now says he missed "the bigger picture' in the years following Black Friday, having "focused a lot of energy on trying to refute allegations that were factually untrue." In doing so, Lederer "convinced myself that I was a victim of circumstance and that criticism was being unfairly directed toward me instead of others."
Lederer claims to have had his pity party crashed in 2014 by a friend who told him the bottom line was that FTP's players "feel like you lied to them." The friend said Lederer was "the face of the company in the poker community" and he had "happily accepted the accolades while falling short of [players] trust."
Lederer said his friend's remarks initially "felt like a slap in the face" but he now acknowledges that they were "fair." Lederer also acknowledges that his apology "is not enough, but it is what I am able to offer to the poker community in the wake of a travesty that I should not have allowed to happen. I am sorry."
Negreanu says he recognizes that Lederer's apology may be too little too late for many FTP players, but Negreanu's personal opinion is that the apology is, if nothing else, genuine. Negreanu suspects all Lederer wants now is the ability to play poker in public "without the vitriol sent in his direction" from players who find it hard to forgive.
The World Series of Poker 2016 is set to kick off at the end of this month. Only Lederer knows if he plans to turn the tournament into his own personal Groundhog Day by poking his head out of his hole and seeing what happens.