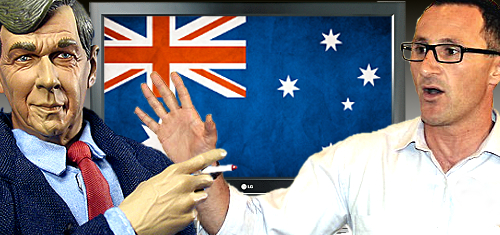 Australia's Greens party says it will introduce legislation to ban all sports betting advertising, "the same way that tobacco advertising was banned" in 1992.
On Friday, the Greens announced their proposal to prohibit the advertising of betting odds, as well as so-called 'cash for comment' in which sports commentators integrate betting promos into sports-themed programs, and sponsorships of sports teams by gambling companies.
In 2013, Australia banned the on-air promotion of live odds during sports broadcasts but the Greens believe tighter restrictions are needed to avoid "tarnishing our iconic Australian sporting codes and normalizing gambling for our kids." The Greens' wider goal is to "stem the tide of sports betting before a trip to the footy is like a day at the races."
The Greens' gambling critic, Senator Richard Di Natale (pictured, not holding cigarette), who has previously pushed for a similar ban on radio betting adverts, said "sports betting, like tobacco, is an adult product" and needed to be treated accordingly. Di Natale said adults should have the freedom to wager as they please "but watching a game of footy shouldn't be like walking into a casino."
There's no question that Australia's sports betting companies have been aggressively marketing their wares. A Fairfax Media study of the first weekend of this year's Australian Football League season showed that one in six adverts was promoting gambling companies. Even the boss of Paddy Power's local offshoot Sportsbet finds the deluge a bit much.
Australian Wagering Council CEO Ian Fletcher characterized the Greens' "headline-grabbing" proposal as a "piecemeal, political gesture" that "unhelpfully caricatures a genuinely complex issue of community concern"
Fletcher noted that sports betting accounts for a mere 3% of Australians' total gambling expenditure and warned that a total ad ban would have "detrimental commercial impacts on the racing, sporting and media industries."
The Greens are a minority party and thus their proposal has some steep hurdles to climb to become law, although the measure could prove a tempting slice of raw meat the governing coalition could throw to the electorate ahead of this year's federal poll.
In the meantime, Aussie gambling operator Tatts Group has unveiled a new promotional spot (viewable below) for its UBET wagering brand. The online-only promo features former AFL star Jonathan Brown advising punters on how to get their female partners to loosen the footy-watching leash, including "lobbing a few choccies in the pie-hole." Women and progressives, look away now…
Comments