At least two lottery retailers in Connecticut are facing charges after authorities said they manipulated the 5 Card Cash lottery game, local media reported.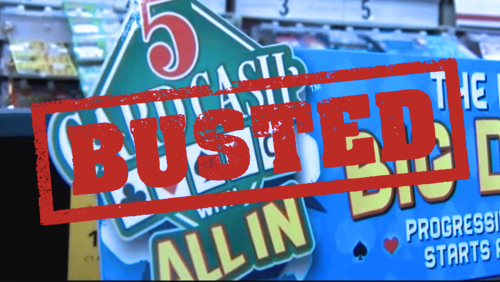 Back in November, the state's Department of Consumer Protection shut down the 5 Card Cash game after officials noticed that there were way too many instant winning tickets that were printed by the winning machines, according to the Hartford Courant.
An ensuing investigation resulted in last week's arrest of six people, who were either owners or employees of the convenience stores involved in the scheme. Of the six, two men—Vikas Patel, 32, and Pravnav Patel, 32—were each charged with three felony counts of first-degree larceny, first-degree computer crimes and rigging a game, according to the report.
Charges for several other lottery dealers are expected to follow.
According to the arrest warrants, the terminal operators were able to "slow down" the lottery machines simply by "requesting a number of database reports or by entering several requests for lottery game tickets." Then, while the requests are being processed, the operator would input sales for 5 Card Cash tickets.
The operator, however, could already see if the tickets were instant winners even before the tickets were printed, so they were able to cancel the sale if the tickets were not winners before the machine started printing.
At Vikas Patel's Hartford Liquor store, investigators found that 67 percent of the 5 Card Cash tickets in one sample were instant winners, while 58 percent in the second sample were winners. Most of the winning tickets were cashed at Patel's store, while more than 400 other were cashed at a lottery retailer near his home, according to the report.
Meanwhile, investigators found 76 percent of the 5 Card Cash tickets sold in one sample at Pravnav Patel's Center Spirit Shoppe, while 59 percent in the second sample were winners. Pravnav Patel's arrest warrant identified him "as the person cashing the bulk of the winning tickets at other lottery retailers."