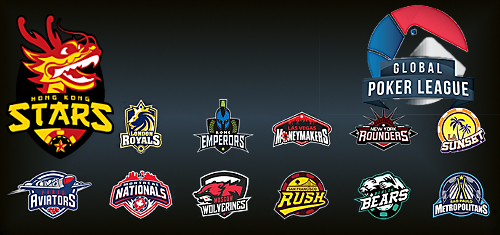 Lee Davy shares his views on why he will be supporting the Hong Kong Stars when the Global Poker League kicks off in earnest April 15.
When I was 6-years old, a school kid called me a Chink. It was a recurring theme. I cried all the way home and asked my mum if any of our relatives were Chinese.
"Sit down, Lee. I have something to tell you."
My old man was not my biological father. Instead, he was some guy I had never met, who ran off when I was the size of a lime. My biological father was from Hong Kong.
And that's NOT the reason I am supporting the Hong Kong Stars when the Global Poker League (GPL) kicks off in under a fortnight's time.
Or is it?
Throughout the draft, each team manager was very active in social media. One of the players who was available to be selected questioned why Celina Lin was choosing relatively unknown players for her team?
Lin responded immediately stating that she had a responsibility to help grow poker in her region, and this was the best way to do that. It was an interesting response because it raised a question I had not thought of before.
What is the goal of the GPL team manager?
If the goal of the team manager is to win the GPL, then they would have chosen the very best players for their team. I don't think that happened. Instead, there is a combination of choices that seem to stem from a desire to win, increase the marketability of their team, and, therefore, the GPL.
This is what the former European Poker Tour (EPT) Main Event Champ, Ruper Elder, had to say about this:
"At the moment, each team has a 'Harlem Globetrotter' appeal to it. It seems as if they are trying to put on an entertaining spectacle rather than trying to win the thing. I tell you what. Had they posted a $5m first prize the picks would have been very different.
"I am unsure what the goals are for each team manager. I am sure they all have different goals. But it seems to be a combination of marketing and winning, and there are a lot of players who fit in that happy medium."
Geographic Focus or Go For The Win?
The world of sport heavily influences my beliefs and values. I am a lifelong Manchester United and England fan. I want to see lads from Manchester playing in the first team, and if not Manchester, then players from the UK.
Paul Scholes, Nicky Butt, Ryan Giggs, the Neville brothers and David Beckham fitted perfectly into this idea. Of course, it helped that they were world class. I am a fan of world class talent coming through, but I abhor it when average non-UK based players are chosen to play for United in place of a youngster of equal ability.
"But isn't that a fault of the countries development in that sport?" Elder poses, "It's not a lack of opportunity, they just aren't good enough."
I think Elder's point is valid. However, I believe there is extreme pressure applied to football managers to get results in the short term. It will be interesting to see if the GPL Team Managers feel this pressure in the future.
I am not the only one who believes the GPL should have introduced a stipulation that forced team managers to choose a certain number of players who were either from the city of origin or, at least, the country. I want to see Fedor Holz playing for the Berlin Bears. I want to see Jonathan Duhamel playing for the Montreal Nationals.
It's personal preference, but as a 'fan' I find it difficult to cheer for a local side purely because my city's name is on the flag. I currently live in Wales. If there were a team from Swansea in the GPL, I would want Roberto Romanello to be the team manager and I would want him to pick local Welsh talent.
Elder disagrees:
"I think if I were from Swansea and the 'Swansea Silencer' signed Phil Ivey over a local Welsh guy then I would be more likely to show an interest. People want (a) entertainment (b) familiarity. If a fan has seen a player on TV before they are probably more likely to watch than if they hadn't unless they had a particularly striking characteristic."
I guess that depends on who's interested? Who is the fan? At the moment, the 'fan' is a member of the general poker community, and that community is also debating this topic. There are some who believe like I do that there should be a stipulation included to embrace local talent, there are much more like Elder, who believe skill trumps everything.
But what about the longer term plan?
Would it be advantageous for the GPL to have a limit on the number of players who compete for a city that they have no affiliation with? For engagement to occur you need to feel a connection with the players on the team, and for me, that connection come from a place of birth, not a person's skill level.
"The one difference between sports and poker is the player doesn't have to relocate to compete. Somehow I don't think some of these players will be moving to the new city. It wouldn't surprise me if you found a player that has never been to the city that has picked them and I suppose that's a little weird." Said Elder.
Skill v Luck
While I ramble on about my need to have a Welsh team full of Valley boys and Valley girls. Elder believes I should be focusing on the way the games will be played and not the people who will play them.
"In sports and eSports there are individual upsets, and they happen quite often. However, there is a much more defined skill edge. Arsenal will typically beat Sunderland because they are the better team just like Fnatic will beat NiP.
"From what I have read of the format, it's essentially six or so donkaments, and that will boil down to pretty much luck. Determining skill in the short term in poker is tough. I used to enjoy watching the huge heads-up showdowns online because it was a battle of who the most skilled players were.
"Sportifying poker is not easy. I'm sure that Alex has many ways to make it entertaining and we all need to get behind it and do our best to make sure it succeeds. There was a period when poker was exciting for a lot of people, but I'm not sure how to (a) recapture that, (b) if it's even possible.
"I think that what's great about sports in general, it's a physical game where there is no solution. The people who work the hardest and happen to have the most skill will win, but upsets also happen.
"The weekend at the start of April is the CS: GO majors. It's $500k for first, $125k for second, etc. If you want to see a video game sportify'd you should check it out on Twitch, there will be millions of people watching ten guys shoot each other on their computers. And it's ridiculously entertaining."
I think it's incredibly important for skill to triumph over luck consistently if the GPL is going to have long-term success. Is poker capable of producing this? I'm not so sure, and perhaps HoldemX will be the key?
After chewing the fat with Elder for a while, I left him to get under the duvet for his daily siesta. In thinking, I realize that a lot of my allegiance to the geographical model comes from the time that kid called me a Chink.
It immediately inserted me as being different. I looked at my family differently for the first time. It was so obvious that our eyes were different. Why had I never seen that before? I became the minority. I was the underdog. And today, I still act in that way. It's my story, and for the time being its sticking.
Unless you are fortunate to live in Manchester during the time Fergie's fledglings was allowed to flap their wings, the geographical model will always create teams of underdogs. And that's why I will be hoping Hong Kong Stars win the GPL. I guess it's because nobody else expects them to, and the fact she chose local talent is the reason.
Comments