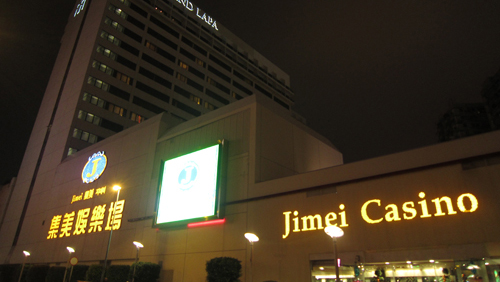 A junket-driven VIP slot room—the first of its kind—opened at the Jimei casino in Macau over the weekend, and industry experts are keeping a watchful eye on it.
Union Gaming Group analysts said the VIP slot room, which contains 130 machines, was funded by traditional junket investors, including a "junket investor who is a well-known VIP slot player at an existing Big 6 casino" in the city state.
The Big 6 operators—Galaxy Entertainment, Melco Crown, MGM China, Sands China, SJM Holdings and Wynn Macau—already offer high-limit slots, but the recently-opened VIP slot room is the first slot parlor that will be run not "like a junket" with a rolling program, providing services such as extension of credit, cashback and rebate on losses.
According to the analysts, the slot parlor's opening indicates that the junket sector is willing to try an idea, which it wouldn't even have dreamed of doing in the past, if it will result in a much-need boost to the sector's rapidly declining revenue.
The experts, however, warned junket operators that getting favorable results immediately from the VIP slot rooms won't be easy. In fact, these rooms could even result in "near-term slot GGR disruption… as players trial the new VIP slot parlor for one reason or another."
"We would caution that slot players are exceptionally fickle and VIP slot players probably even more so. They are very high maintenance from a customer service perspective and are very particular about what games they want to play, denominations, etc.," Union Gaming Group analyst Grant Govertsen said in a note.
Govertsen also pointed out that the VIP slot parlor's location—one of the lower-performing third party properties that offers few amenities—could make it a tough sell to attract and retain players. From a regulatory perspective, the VIP slot room is also not easy to manage as things like "swapping out machines, reconfiguring slot layouts" can take months to be approved.
Still, analysts are hopeful that the VIP slots room's main selling point, that it is being run by and like a junket, could appeal to slot players.
"This dynamic could hold some level of appeal to existing slot players albeit at the expense of lower margins relative to the typical 40% plus EBITDA margin on slots," Govertsen said.
Comments