Not today, Pete.
Okay, that may not be what Major League Baseball Commissioner Rob Manfred told Pete Rose when he called him up on Monday to tell him that he is upholding his ban, but that's just how I imagined it.
Three months before the decision, Manfred met with Rose at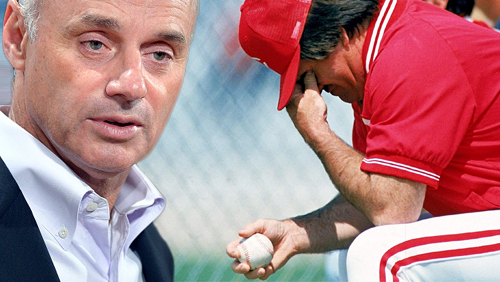 MLB headquarters on Park Avenue in Manhattan to discuss the ban, which was enforced 26 years ago. Rose described the meeting as "cordial" and he claimed to have answered Manfred's questions "truthfully".
According to Manfred's report of the meeting, Rose admitted that he extensively bet on Cincinnati Reds games in 1987, although his memory was a bit cloudy on his involvement in betting on baseball when he was still an active player in 1985 and 1986. Another significant confession from Rose, which he tried to deny at the first part of their meeting, was when he admitted that he still bet recreationally and legally (in Las Vegas) on horses and sports, including baseball.
These facts led Manfred to conclude that Rose has not made enough reconfiguration in his life, which, according to then-commissioner Angelo Bartlett Giamatti, was Rose's best chance to be reinstated.
"Mr. Rose has not presented credible evidence of a reconfigured life either by an honest acceptance by him of his wrongdoing … or by a rigorous, self-aware and sustained program of avoidance by him of all the cirucmstances that led to his permanent ineligibility in 1989," said Manfred.
"Allowing him to work in the game presents unacceptable risk of a future violation by him of Rule 21 (which says any player, umpire, or club or league official or employee, who shall bet any sum whatsoever upon any baseball game in connection with which the bettor has a duty to perform shall be declared permanently ineligible)," wrote Manfred. "And thus to the integrity of our sport."
Despite the unfavorable decision, Manfred said that he acknowledged Rose's accomplishment as a player and will continue to allow him to participate in ceremonial activities that present no threat to the integrity of the game. He can also work for third parties such as Fox, which hired Rose this year as a baseball analyst.
Former commissioner Fay Vincent thinks Rose should never be reinstated. "I think (Rose) is a tragic figure. He believed he was a great ballplayer, that he could do anything he wanted and that baseball would never have the guts to throw him out."
If there is any consolation, Manfred wrote that the ban shouldn't stop Rose from being considered for the National Baseball Hall of Fame, as he remained the all-time leader in hits with 4,256.
"It is not a part of my authority or responsibility here to make any determination concerning Mr. Rose's eligibility as a candidate for election to the National Baseball Hall of Fame ('Hall of Fame')." said Manfred. "In fact, in my view, the considerations that should drive a decision on whether an individual should be allowed to work in Baseball are not the same as those that should drive a decision on Hall of Fame eligibility."
Comments