There is a big news coming for Pete Rose.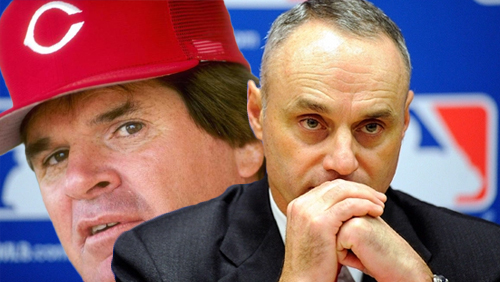 According to a written statement, Major League Baseball Commissioner Rob Manfred has promised to decide by the end of the month. That's less than a month of waiting whether Santa would be so generous that Rose will find a reinstatement letter on a red Christmas sock he hang on his wall or he and his lawyers will just have to keep on trying.
Even if the old Charlie Hustle is giving Manfred those puppy eyes, nobody at MLB is suggesting at which way the commissioner is leaning and many believes that there is no reason Manfred will do what his mentor/predecessor Bud Selig didn't do from 1992-2015 and that's lifting Rose's ban for 20 years.
But hey there may be a bit if chance as Manfred may be the most open-minded MLB commissioner. Manfred during an interview with ESPN said that he wanted to have a sports betting discussion with team owners. That is after the fact that baseball really hates gambling.
"Gambling in terms of society has changed its presence on legalization and I think it's important for there to be a conversation between me and the owners about what our institutional position will be," said Manfred.
Also when then-commissioner Angelo Bartlett Giamatti handed down the lifetime ban in 1989, Giamatti said Rose's best chance be reinstated is to reconfigure his life.
"Pete's never shied away from an uphill task. I honestly do believe that he has reconfigured his life in an impressive way and look forward to commissioner Manfred getting to see that as this process plays out privately," Rose's lawyer Ray Genco told CBS. "MLB people have given every indication that this application will be treated with a full and open mind, so I don't necessarily buy the premise that it will be an uphill battle."
And lastly, his Cincinnati Reds fans have forgiven him, saying that he's paid his penance and it's time his contributions as a player finally be recognized. At least whatever happens, the fans and the team still want him around.
Rose, baseball's all-time hits leader and Reds' manager since 1984, was hit with a lifetime ban from baseball in 1989 for gambling on the game. Despite being one of the greatest baseball players in history, which we can all agree coz you don't get to have 4,256 hits without being great, his itch to bet on games became his downfall.
Gambling on the sport is one of the cardinal sins of baseball. Everyone in and around the game knows that. Even if he claimed that he only bet on his team to win, according to the rule, "any player, umpire, or club or league official or employee, who shall bet any sum whatsoever upon any baseball game in connection with which the bettor has a duty to perform shall be declared permanently ineligible."
It's been too long of a ban that it doesn't even seem right anymore to keep him away from the game. But even if the ban is overturned, Rose's road to Hall of Fame won't be easy as players are only eligible to be voted 15 years after their playing career,  meaning Rose's time is up to be on the ballot. So as far as the chances for it happen, that's not a bet anyone should take, either.
Comments